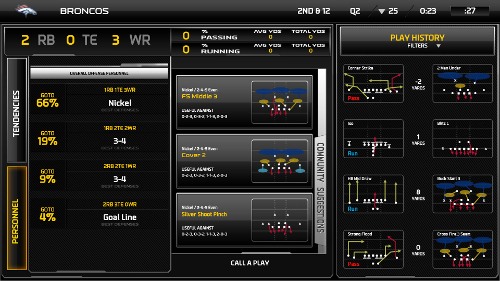 EA Sports today announced that SmartGlass will be utilized with the Xbox One version of Madden NFL 25. SmartGlass is available on smartphones and tablets (iOS, Android, Windows) as well as PCs running Windows 8. The app turns them into second screen devices that communicate directly with the games. 
The feature is being called "CoachGlass" and is designed to assist in playing defense which has always been felt to be at a distinct disadvantage. After an opponent chooses a play (CPU or online) three defensive play options will appear on screen that are suggested based on the offensive formation chosen and tendencies tracked through both offline and online play. Results and play call selections are also stored and presented as the game progresses.
YOUR OWN COORDINATOR
As soon as the opponent picks an offensive formation, CoachGlass will recommend three plays based on either the personnel or the opponent's tendencies. This data is pulled from tens of thousands of online games and is tailored for specific formations and plays. Once you select your play, CoachGlass will then highlight the opponent's biggest threats, allowing you to key in on the most dangerous players.

CO-OP OPPORTUNITIES
Looking to hand off the X's and O's responsibility? Simply have a friend or family member take over on CoachGlass to let them assume defensive coordinator duties while you focus on shutting down the opposition. CoachGlass gives players a whole new way to experience Madden NFL 25, and helps teach basic play-calling strategy in a fun, intuitive way.

DYNAMIC UPDATES
New data is constantly being fed into CoachGlass, allowing for even more accurate tracking of opponent tendencies and strategy. The Madden NFL servers capture the result of every online play, and CoachGlass will be regularly updated for easy access to the best plays available, regardless of the situation.

INSTANT RECALL
Looking for that killer blitz that led to a big play earlier in the game? CoachGlass remembers the last 64 plays called and provides an in-depth look at the most effective plays. Search through your plays to reveal trends in order to get a read on what your opponent is going to call next.
It's unfortunate and somewhat frustrating that CoachGlass won't be available on the PS4 through either the Vita and Remote Play or the PlayStation app that will have similar capabilities as SmartGlass. While there could be some app limitation that prevents it from being offered on PS4 it's more likely this is one of the exclusive features agreed to in the partnership between EA and Microsoft based on the way it is being promoted.
It's also something that could just come right up within the game if EA wanted to design it that way and given the difficulty people have in calling defense, having success on defense, and having fun playing defense it becomes puzzling that they didn't do just that. In fact they had something similar with "Online Scouting" in Madden NFL 11 that displayed the tendencies of opponents. This appears to be far more expansive but whether it is best suited for a second screen app that a large portion of consumers won't have access to or utilize even if they do remains to be seen.