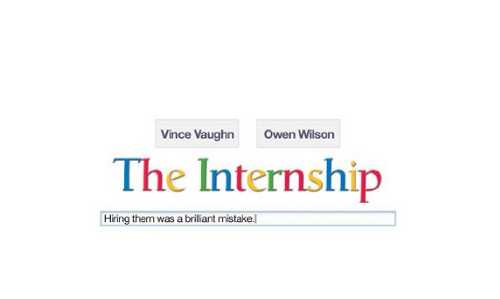 The Conjuring
Before there was Amityville, there was Harrisville. Based on the true life story, The Conjuring tells the tale of how world renowned paranormal investigators Ed and Lorraine Warren were called upon to help a family terrorized by a dark presence in a secluded farmhouse. Forced to confront a powerful demonic entity, the Warrens find themselves caught in the most horrifying case of their lives.

The Internship
Vince Vaughn and Owen Wilson team up to crash the digital world in this laugh-out-loud buddy comedy you've been searching for! Trying to reboot their obsolete careers, old-school salesmen Billy (Vaughn) and Nick (Wilson) talk their way into an internship program at the state-of-the-art Google campus, vying for a handful of spots among tech-savvy college students who are half their age and twice as smart. The competition is fiercely funny as Billy and Nick break all the rules in a hilarious quest to land their dream jobs!

Before Midnight
Jesse (Ethan Hawke) and C'line (Julie Delpy) first met in their twenties in BEFORE SUNRISE; reunited in their thirties in BEFORE SUNSET; and, now, in director Richard Linklater's amazing BEFORE MIDNIGHT, they face the past, present and future; family, romance and love. Now on a writer's retreat in Greece, the couple looks for a night of passion, but instead their idyllic night turns into a test of their relationship and a discussion of what the future holds for them.

The Way, Way Back
While 14-year-old Duncan (Liam James) is being dragged on a family trip with his mom (Toni Collette) and her overbearing boyfriend (Steve Carell), he finds a gregarious friend (Sam Rockwell) at a local water park. The two form a powerful bond as Duncan learns to swim through the challenges of life, love, family and friendship, resulting in a vacation he'll never forget.

Only God Forgives
Julian (Ryan Gosling), an American fugitive from justice, runs a boxing club in Bangkok as a front for his drug business. His mother (Kristin Scott Thomas), the head of a vast criminal organization, arrives from the US to collect the body of her favorite son, Billy. Julian's brother has just been killed after having savagely murdered a young prostitute. Crazy with rage and thirsty for vengeance she demands the heads of the murderers from Julian. But first, Julian must confront Chang (Vithaya Pansringarm), a mysterious retired policeman – and figurehead of a divine justice – who has resolved to scourge the corrupt underworld of brothels and fight clubs.

White House Down (Instant Video Exclusive)
Capitol Policeman John Cale (Channing Tatum) has just been denied his dream job with the Secret Service of protecting President James Sawyer (Jamie Foxx). Not wanting to let down his little girl with the news, he takes her on a tour of the White House, when the complex is overtaken by a heavily armed paramilitary group.

Nikita: Season Three
In a game-changing turnaround, Nikita, Michael and CIA analyst Ryan Fletcher are heading Division, and have been tasked by the U.S. president to clean up after the previous regime. With punk hacker Seymour hardwired to the cause, Alex in the fold, and Owen back from a Russian prison, the new team has all the tech, muscle and spy power they need to round up the Dirty Thirty, rogue assassins who remain at large around the globe. But Amanda has Division in her crosshairs, the Oval Office wants the job done yesterday, and the operation suffers devastating physical hits. Nikita must use every asset in her power to hold it together for the mission, her man, her future and her freedom in all 22 butt-kicking episodes of this smart, sexy suspense series.