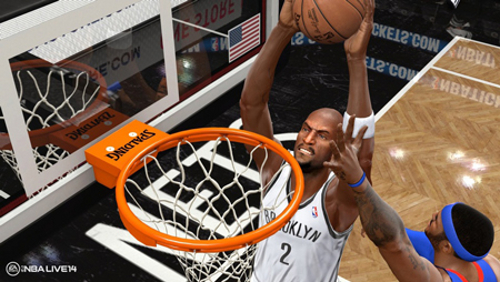 Though many of the features for NBA Live 14 have still yet to be revealed the current retailer product description does confirm the return of one that first debuted in NBA Live 09. NBA Rewind – which allows for playing the games of the day in the league as well as those already completed earlier in the season with true to the time rosters and ratings – is back along with a new component called  "BIG moments" which are more focused challenges.
Live Season: Experience the NBA season as it happens. Take on quick challenges based on each day's most memorable performances in BIG moments, or play your favorite team's schedule right alongside them with real-world performance data in NBA Rewind. Can you replicate the feats of the NBA's biggest stars? Can you shut down your opponent's star player on his hottest night of the year? See where you stack up on each challenge's leaderboard both amongst your friends and against NBA LIVE 14 fans from around the world every day throughout the season.
Dynamic Season and NBA Rewind were never officially announced for either NBA Elite 11 or NBA Live 13 after appearing in Live 09 and 10. Also mentioned in the feature descriptions are that Ultimate Team will include legends which has been expected ever since early this summer when legends were confirmed to be part of the product. More on Ultimate Team was scheduled to be released on Monday but instead has been pushed back to next week.