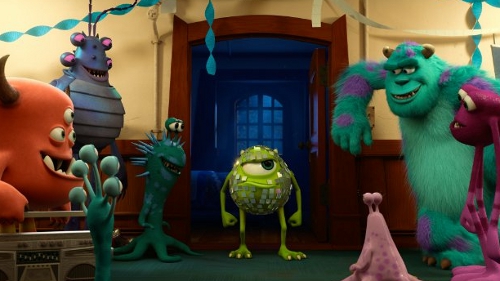 Monsters University
Disney Pixar proudly presents the hilarious story of how two mismatched monsters met and became lifelong friends in a movie screaming with laughter and oozing with heart. Ever since college-bound Mike Wazowski (Billy Crystal) was a little monster, he's dreamed of becoming a Scarer—and he knows better than anyone that the best Scarers come from Monsters University (MU). But during his first semester at MU, Mike's plans are derailed when he crosses paths with hotshot James P. Sullivan, "Sulley" (John Goodman), a natural-born Scarer. The pair's out-of-control competitive spirit gets them both kicked out of the University's elite Scare Program. With their dreams temporarily dashed, they realize they will have to work together, along with an odd bunch of misfit monsters, if they ever hope to make things right. Get ready to party with hours of exclusive bonus extras, including an inside look at the world of monsters and the animated theatrical short film "The Blue Umbrella."

R.I.P.D
Jeff Bridges and Ryan Reynolds headline this supernatural action-adventure as two cops dispatched by the Rest In Peace Department (R.I.P.D.) to protect and serve the living from increasingly destructive spirits hiding among the unsuspecting on Earth. When they uncover a plot that could end life as we know it, the new partners have to turn grudging respect into top-notch teamwork to restore the cosmic balance…or watch the tunnel to the afterlife begin sending angry souls the very wrong way.

Byzantium
A run-down coastal resort becomes the epicenter of unimaginable evil when two mysterious women suddenly appear there seeking refuge. Alluring Clara (Gemma Arterton, Hansel & Gretel: Witch Hunters) and schoolgirl Eleanor (Saoirse Ronan, Hanna) meet local loner Noel (Daniel Mays, Atonement) and take up residence in his deserted guesthouse, Byzantium. Before long Eleanor befriends another local, Frank (Caleb Landry Jones, Antiviral) and reveals to him the lethal secret the two women share: they were born 200 years ago and survive on human blood. As knowledge of their secret spreads, their shared past threatens to catch up to them with deadly consequences. A uniquely fresh take on the vampire myth, Neil Jordan (The Brave One) BYZANTIUM is a stylish and affecting look at the loneliness and isolation that come with the price of immortality.

Bounty Killer
Its been 20 years since the corporations took over the worlds governments. Their thirst for power and profits led to the corporate wars, a fierce global battle that laid waste to society as we know it. Born from the ash, the Council of Nine rose as a new law and order for this dark age. To avenge the corporations reckless destruction, the Council issues death warrants for all white collar criminals. Their hunters — the bounty killer. From amateur savage to graceful assassin, the bounty killers now compete for body count, fame and a fat stack of cash. They re ending the plague of corporate greed by exterminating the self serving CEO and providing the survivors of the apocalypse with retribution. These are the new heroes. This is the age of the BOUNTY KILLER.

ESPN: Book of Manning
A father-and-son story written into the pages of football folklore, it can be argued that no family has had more influence on a sport than the Mannings. Archie – the patriarch – a star quarterback at the University of Mississippi and then with the New Orleans Saints, followed by oldest son Cooper, whose football dreams were cut short by a spinal condition, then sons Peyton and Eli – both of them quarterbacks, All-SEC, number one draft picks, back-to-back Super Bowl champions and MVPs. Narrated by actor John Goodman, The Book of Manning features revealing interviews with Archie, Olivia, Cooper, Peyton and Eli Manning along with other family members, friends, former teammates and coaches as well as never-before-seen photos and home movie footage of Archie and his sons. Through it all, director Rory Karpf explores how a tragedy shaped the course of not only Archie's life, but his family's as well.