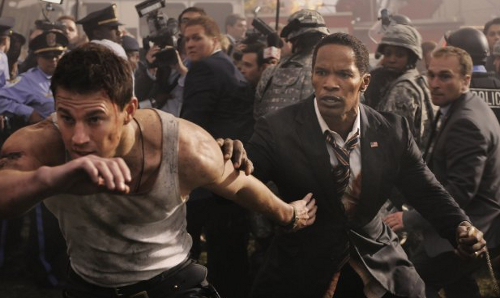 White House Down
Capitol Policeman John Cale (Channing Tatum) has just been denied his dream job with the Secret Service of protecting President James Sawyer (Jamie Foxx). Not wanting to let down his little girl with the news, he takes her on a tour of the White House, when the complex is overtaken by a heavily armed paramilitary group. Now, with the nation's government falling into chaos and time running out, it's up to Cale to save the president, his daughter, and the country.

Grown Ups 2
The all-star comedy cast from "Grown Ups" returns with some exciting new additions! After moving his family back to his hometown to be with his friends and their kids, Lenny (Adam Sandler) finds out that between old bullies, new bullies, wild bus drivers, cops on skis and 400 costumed party crashers, sometimes crazy follows you.

The Hobbit: An Unexpected Journey (Extended Edition)
Join Peter Jackson on the Journey to the World's Greatest Adventure Three-disc Extended Edition includes 13 minutes of revealing never-before-seen film footage and nearly 9 hours of fascinating in-depth looks at the production.

The Hobbit: An Unexpected Journey Extended Edition
with Limited Edition Amazon Exclusive Bilbo/Gollum Statue

Twilight Forever: The Complete Saga Box Set
Includes all the Twilight films and special features.

Lovelace
In 1972 before the internet, before the porn explosion Deep Throat was a phenomenon: the first scripted pornographic theatrical feature film, featuring a story, some jokes, and an unknown and unlikely star, Linda Lovelace. Escaping a strict religious family, Linda discovered freedom and the high-life when she fell for and married charismatic hustler Chuck Traynor. As Linda Lovelace, she became an international sensation-less centerfold fantasy than a charming girl-next-door with an impressive capacity for fellatio. After struggling to break free from Traynor whose endless abuse nearly killed her, Linda made it her life's mission to fight violence against women.

Duck Dynasty: I am Dreaming of a Redneck Christmas
Celebrate the holidays in true redneck fashion with America's favorite family!

Doctor Who: Series 1-7 Limited Edition Blu-ray Giftset
For the first time ever, BBC Home Entertainment is collecting the complete new Doctor Who together on Blu-ray along with an amazing assortment of additional items, including a completely unique Doctor Who Universal Remote Control Sonic Screwdriver, three original art cards, and an exclusive Doctor Who comic book. The collection includes Series 1-4, featuring Ninth Doctor Christopher Eccleston and Tenth Doctor David Tennant, making their Blu-ray debut in newly remastered versions at full 1080p high definition, plus the David Tennant Specials collection and Series 5-7 featuring Eleventh Doctor Matt Smith, also on 1080p high definition Blu-ray. All the bonus features from the previous releases are included, as is a bonus disc with three new-to-Blu-ray specials: The Brit List's Ultimate Doctor Who List of Lists; The Best of the Christmas Specials; and the full 90-minute Doctor Who at the Proms, newly remastered with 5.1 Surround Sound.

Mad Men: Season Six
Returning for its sixth season, MAD MEN, four-time Primetime Emmy winner for Outstanding Drama Series and winner of three consecutive Golden Globes, explores the glamorous and ego-driven "Golden Age" of advertising in the late 1960's New York City. Don Draper (Golden Glober – winner Jon Hamm) and the rest of the award-winning cast continue to captivate as they deal with the aftereffects of adultery, divorce, a merger, and an ever changing social climate.

Under The Dome: Season One (Limited Collector's Edition)
Under the Dome, a new 13-episode miniseries based on Stephen King's best-selling novel, is the story of a small town that is suddenly and inexplicably sealed off from the rest of the world by an enormous transparent dome. The town's inhabitants must deal with surviving the post-apocalyptic conditions while searching for answers about the dome, where it came from and if and when it will go away.