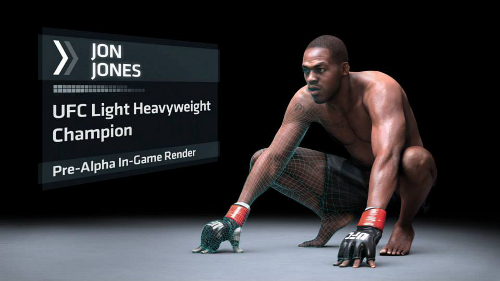 Plans for a cover vote to determine the fighter that would grace the cover of EA Sports UFC were scrapped at some point since June and today the company announced that Jon Jones has been selected for the honor.
Jones is currently the light heavyweight champion and has defended that title successfully six times. He would have been a favorite in any voting campaign along with others like Cain Velasquez and Ronda Rousey.
EA Sports UFC is expected to release next spring on the PS4 and Xbox One. For information on some of the gameplay features make sure to check out the descriptions from this summer.
[Update] A second fighter will join Jones on the cover and that one will be determined (of course because it's EA) in a tournament-style vote. Georges St-Pierre, Jose Aldo, Chris Weidman, Dominick Cruz, Demetrious Johnson, Ronda Rousey, Miesha Tate, Michael Bisping, Daniel Cormier, Junior dos Santos, Urijah Faber, Alexander Gustafsson, Benson Henderson, Johny Hendricks, and Chael Sonnen are all involved in that.