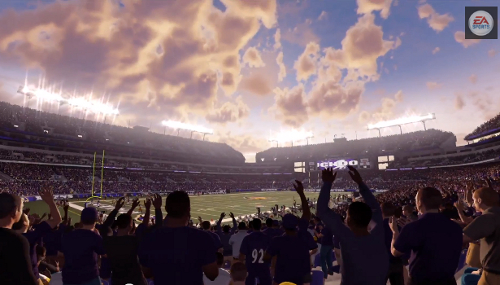 Of all the areas the new Ignite Engine was supposed to be of benefit to Madden NFL 25 on Xbox One and PS4, the one that has demonstrated the least in the way of dividends in all the footage to date is "Living Worlds".
Elements that were said to be improved but have not appeared to be so include the same sparsely populated and static sidelines with generic players, completely disconnected cut scene celebrations, crowds that have numerous replicated fans in each small area and lack diversity, and differentiation in each stadium experience or the pressures of playing on the road.
A new trailer released today discusses atmosphere, emotion, the crowds, and sidelines. It's very brief and basic though and still, outside of the single video that EA probably didn't want out, the company hasn't allowed or released uncut gameplay footage for consumers to judge on their own with just a week left until the PS4 arrives. 
Feel the anxiety of the crowd as you step up to the line on 4th and goal. Watch your teammates and coaches react with excitement as you blaze down the sideline for a game-changing score.

Hear the most intelligent commentary in franchise history, as Phil Simms, Jim Nantz and sideline reporter Danielle Bellini recall key moments about your career including your injuries, stats and accolades.

Each stadium is dynamic, filled with energy, emotion, and action. In Madden NFL 25, feel the pulse of every game, every score, every play.