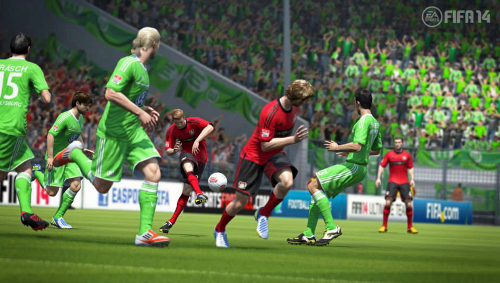 While post-release patch support has seemed to take a back seat with the other two current-gen sports games that will be out on PS4 and Xbox One next week, a third patch for FIFA 14 will go live on the Xbox 360 and PS3 within the next few days.
The latest update seems targeted at addressing annoyances such as laggy subbing in Career mode, random crashes, and clashing kits. 
♦Career Mode lag when subbing players.
♦Skill Games pad arrows now switched to pass receiver when he gets the ball.
♦Virtual Pro numbers defaulting to 9 after a match.
♦Corrected instances of kit clashing.
♦New kits on Creation Centre showing as EA Kit 1.
♦Fixed some audio scenarios.
♦Co-Op Seasons squad changes will be reflected on teammate's screen.
♦Added Bahia licensed kits and crest.
♦Fixed several FIFA Ultimate Team hang, including one instance of a crash when entering the FIFA Ultimate Team main menu and a hang when comparing players after accepting a trade offer.