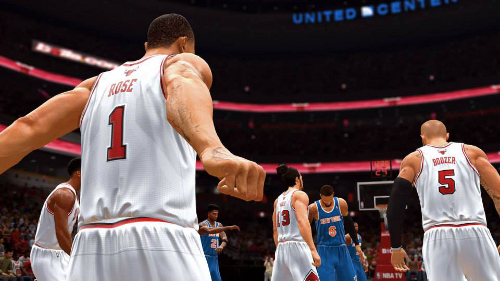 At a time when competition in sports gaming has nearly evaporated the return of the NBA Live series offers some hope that multiple games can exist for a single sport. NBA Live 14, debuting next week after a three year absence due to two late-cancelled titles, needed more than anything to reestablish some credibility in order to build towards future battles in the marketplace.
In the lead-up to release EA Sports has demonstrated a distinct lack of confidence in the product and made decisions that could lead the franchise's cancellation before it ever even has an opportunity to truly compete. 
Over the summer EA Sports talked about how they knew they had to show the game to prove things to a skeptical consumer base who have another option and not just make empty promotional statements. Unfortunately they never actually followed through with that. The game has been hidden and for long stretches seemingly ignored. The exception is a few seconds of gameplay from a trailer that was naturally going to be overly scrutinized when it's the only thing offered to evaluate. Predictably a lot was immediately identified from that as problematic.
The biggest mistake the company made was moving the release date back so that it would not be a launch title for the PS4. Those are significant days where the game won't be on the market. There's no decision for basketball fans to make when picking up the console or for the more casual consumer that may have bought it not knowing much of anything about the product. Even the demo which was set to release on Friday has been pushed back to the following Tuesday which represents another unsettling move. The message is clear: EA doesn't want consumers to see or play the game before it releases.
Now it's not even just about those first four days but has extended to well over a week in which PS4 games will have been available to purchase from retailers. In discussions on Twitter quite a few people stated they would have considered getting Live in the buy two get one free promotions that have been held by Amazon and Target. Since Live isn't a launch title it wasn't included in those promotions. Another missed opportunity there.
For EA Sports getting sales in this reboot year may only a good thing if the game is at least decent. Cancelling NBA Elite 11 and NBA Live 13 prevented a situation where consumers would have felt ripped off and sworn them off forever. Their actions so far suggest a lack of confidence however, which would mean disappointing those who spend the $60 and potentially losing the few who gave the product a chance for good.
That's why being transparent about the product would have been the proper course of action. No one could have expected NBA Live 14 to match up favorably against NBA 2K14. Though it will certainly do some things better than 2K14. Focus on those aspects of the game, show them off completely, and be up front about any liabilities. Show the game completely and accept any negative feedback along with what is deemed as promising. Consumers have shown they'll respond to that type of honesty and it will pay off down the line when the series strengthens. Don't try and trick people into buying it by making the sales strategy based on securing only the uninformed. That base will crumble away leaving nothing.
There are still many out there open to NBA Live and hopeful for some sustained legitimate competition in sports gaming. Unfortunately it appears that the release of NBA Live 14 won't be the beginning of that and it brings into question how long EA will stick with a series that they continue to mismanage so badly.
[Update] Reviewers won't be receiving copies of NBA Live 14 before release. That is another horrific sign…possibly even worse than hiding gameplay footage from consumers.