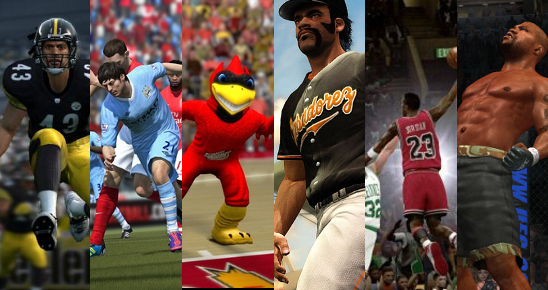 The Best Sports Game of the Generation Tournament has reached the Final Four! From the pool of 64 games those left standing are NBA 2K11, NBA 2K13, FIFA 12, and MLB 13: The Show. They won fairly comfortably in the quarterfinals by bouncing NCAA Football 14, Madden NFL 13, 2010 FIFA World Cup, and College Hoops 2K8. Nearly 20K votes were cast in the previous round.
The two pairings in the Final Four feature a battle between NBA 2K games and the best of FIFA and The Show going head-to-head. Continue on to cast your support and leave any thoughts in the comments on results and which games should move on!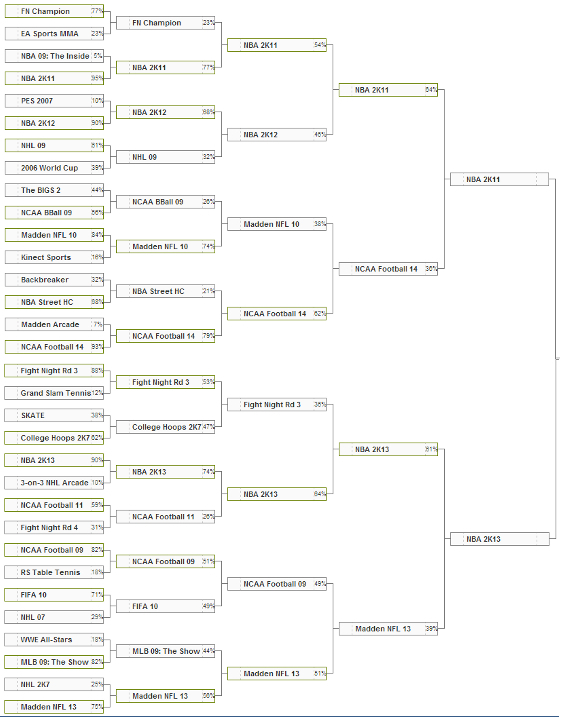 NBA 2K11 vs NBA 2K13
It was 2K11 that launched the series to a level that some believed wasn't possible for a basketball game in terms of consumer reception and sales with the featuring of Michael Jordan. New "The Jordan Challenge" mode, "Creating a Legend" mode, and historic teams were big winners. NBA 2K13 continued the streak of strong releases for the franchise by excelling in most areas including content, gameplay, presentation, commentary, and career mode while improving its online play.
♦The path to the Final Four for NBA 2K11: 95% over NBA 09, 77% over Fight Night Champion, 54% over NBA 2K12, and 69% over NCAA Football 14.
♦The path to the Final Four for NBA 2K13: 90% over NHL Arcade, 74% over NCAA Football 11, 64% over Fight Night Round 3, and 61% over Madden NFL 13.
FIFA 12 vs MLB 13: The Show
With FIFA 12 EA Sports debuted the new physics engine which pushed the series forward. Online Seasons mode made its first appearance and Ultimate Team became part of the base product. MLB 13 offered up excellent gameplay, authenticity, and graphics – those things that have been staples of the series for the whole generation. For the first time though it was a complete product by finally bringing the online experience up to par. Opening the timing window at the plate helped to make the game more fun without sacrificing realism and the new Postseason mode was excellent.
♦The path to the Final Four for FIFA 12: 79% over MLB 2K8, 70% over NHL 12, 74% over NBA Live 10, and 53% over 2010 FIFA World Cup.
♦The path to the Final Four for MLB 13: 86% over NFL Blitz, 89% over MLB 11, 58% over FIFA 13, and 57% over College Hoops 2K8.