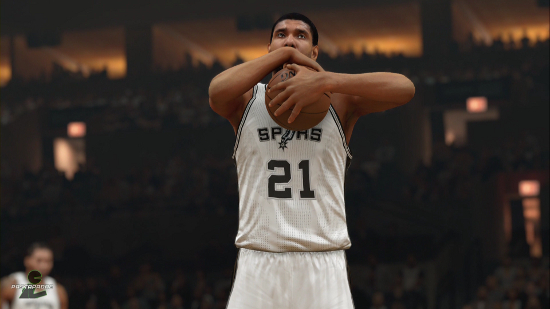 NBA 2K14 represents a phenomenal first effort on the next-gen systems. It immediately shows off the capabilities of the new hardware and provides fresh experiences coupled with the reliably excellent gameplay consumers have come to expect from the series. No game is perfect though and NBA 2K14 has its share of faults. Continue on for what NBA 2K14 did well and where it faltered in this Hits and Misses review. 
Hits
MyCareer
Though silly at times due to the cliched dialogue, awkward interactions, and bad voice acting, MyCareer is a blast and revolutionizes what had been the traditional boring career mode. There is now an emotional element to playing that had never been present. Having a true rival provides additional motivation, the draft presentation is excellent, and while it's scripted there is enough variation to make how your player performs matter.
2K needs to get rid of the bad call for pass penalty, or at least move it to a button where it won't get pressed accidentally so often. Teammate AI appears to be much improved making it far less frustrating to play without the ball in your hands. It'll be interesting to see how 2K Sports evolves the mode in the future. They'll have to start from scratch with unique stories and compelling twists every year now.
Graphics and Presentation
There is no game that better puts on display the graphical achievements of next-gen than NBA 2K14. Most player faces are stunningly true-to-life, the players show actual emotion, and the lighting and courts look great as well. The general flow to the games and way they are presented could easily be mistaken for a real NBA game.
The on-court interviews utilizing real audio are a tremendous addition (just need to have the crowd filing out, be on the right spot on the floor, and different poses…small details to address). Commentary and presentation otherwise is familiar but still excellent. A network branded package would take things to another level however.
Gameplay
Many will likely consider the gameplay to be largely the same as 360/PS3 but there are some improvements of note. Eco-Motion has made the foot-planting more prevalent and the ball being loose feels naturally dynamic without going overboard on deflections and turnovers. The Points of Emphasis system is a great concept that could use some more work. Additional options include voice commands and the touchpad on the PS4 controller to call quick plays.
New Experiences Accompanied By Good Of The Old
Replacing Association with MyGM has generated similar response to when EA had Franchise mode evolve into Connected Careers in Madden. All the new options have been received fairly well but there are a number of features of the old Association that have been left out in the process.
There's a lot more to get involved with in MyGM however and that level of interactivity and decision making is welcome. MyTEAM brings in a few new ways to play including an offline "Domination" mode (where NBA teams are the opponents) and online tournaments.
The new NBA Today screen is awesome. It displays all the scores around the NBA, stats leaders of the day, the previous day's results, updated standings, and throws a highlight reel in the middle of the screen.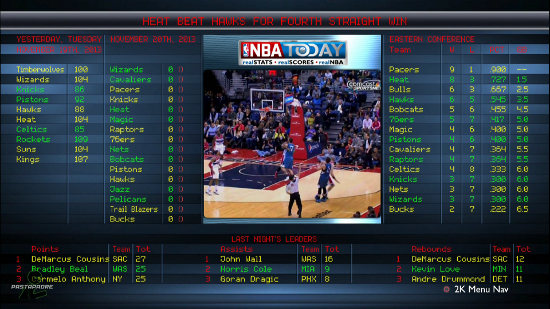 Misses
Online and VC
While 2K Sports has excelled in many areas with the NBA 2K series, the company has failed more often than not in providing an acceptable online experience. The servers have been unreliable, lag and disconnects prevalent, and features either omitted or broken.
That doesn't change with the PS4 and Xbox One and in some ways the game has become even more dependent on the shaky servers. Losing an online connection or the servers being down means being unable to play just about every mode in the game including MyCareer and MyGM.
The Park, while an intriguing addition, rarely if ever works. Online leagues lack the necessary options and tools to make it a viable mode to invest time in. There are no leaderboards or apparent record keeping and stat tracking. It's nearly 2014 and two online users still can't do things in the pause menu at the same time?
Much of the blame for the dependency on the servers falls on the implementation of VC throughout the game. VC has infected everything now – even in MyGM mode it has to be spent to unlock abilities like being able to change the lineup. Simming in MyGM mode of course does not earn VC which means all games have to be played to really progress in the mode.
What may be the biggest issue with VC is how it all pools together. Consumers can't effectively bounce between modes as spending in one limits their success in another.
Menus
NBA 2K14 offers up arguably the most poorly designed menu system in the history of sports gaming. Good luck finding all the advertised features within them.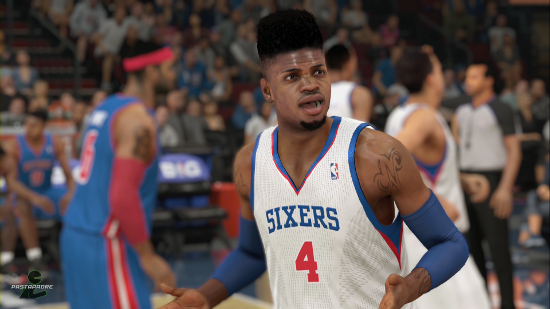 Summary
When all the features are accessible and located in NBA 2K14 it's a true next-gen experience that combines compelling modes with excellent gameplay and brilliant graphics. It hits many highs and avoids some of the lows that are typically associated with launch titles. This is the rare sports game that has legitimate carryover appeal to even non-sports fans.
*NBA 2K14 has been played only on the PS4. I have picked up an Xbox One version and will note any differences in an upcoming article.