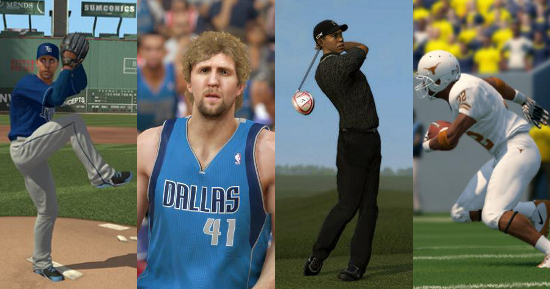 Even with the contraction of recent years there remain significant stories that affect not just the sports gaming genre but the entire gaming industry. In 2013 that included lawsuits, series cancellations, anti-consumer initiatives, and corporate restructurings. 
Cancellation of NCAA Football Series
The legal battles involving EA Sports and the use of player likenesses in college video games came to a conclusion when EA and the CLC settled. It only cost $40 million to do so – a drop in the bucket compared to what an unfavorable judgment against them could have been.
However it also meant the ending to the NCAA Football series. There won't be any college video games for the foreseeable future, until the other side of the class action lawsuit (against the NCAA) comes to a conclusion which could be five years from now. Even then, if college players can be paid, it's no sure thing that games will immediately viable once again.
Read More: EA and CLC Only Out $40 Million in Player Likeness Case Settlement – EA Sports Cancels NCAA Football Series – Press Row Podcast Episode On The Cancellation
Disastrous Launch of Next-Gen NBA 2K14
The story of NBA 2K14 on Xbox One and PS4 is unprecedented. What began as not only the most anticipated sports game for the new systems – but one being recognized as transcending the genre to demonstrate the best of the new technology – has become a picture of all that can be wrong with the industry and the backlash generated has been extreme.
The system of Virtual Currency prompted justifiable outrage. Technical issues such as crashing, server outages, online lag, and glitches preventing progress in modes have been widespread and are still ongoing. What is essentially an always-online requirement has magnified the issues.
Meanwhile 2K dropped support of the 360/PS3 version. There's no indication they plan on releasing a single patch. All focus instead has gone towards next-gen and its digital revenue plan.
Read More: Devastating Server Problems – Online Troubles Escalate – Severe Problems Continue Despite Two Patches – VC Threatens Future of the Series – Press Row Hangout on VC Controversy – The Hangout on VC in Podcast Form
EA Sports Drops Tiger Woods; Golf Series Taking Year Off
In what seemed only a matter of time a few years ago, EA Sports severed its relationship with Tiger Woods but what is surprising is that he won't even appear in the next golf game from the company. This will save EA the over $15 million a year they had been paying him but they lose in brand recognition and marketing. In other news the next PGA Tour game won't release until 2015.
Unfortunately EA halted post-release support on the otherwise fantastic Tiger Woods 14 as a much needed second patch never materialized. None of the news related to the series can be used as justification for that happening.
Read More: EA Sports Ends Relationship With Tiger Woods – Tiger Woods Won't Be In The Next EA Golf Game – No Tiger Woods Game Coming Next Year
MLB Gone From Xbox
There will be no sim MLB game on the Xbox One next year – that much is certain based on the graphic released by SCEA to tout that MLB 14: The Show as the "first and only Major League Baseball simulation for next generation consoles".
The departure of MLB comes arguably a year later than it should have. 2K and MLB had parted ways only to make a one year extension of the license (with very favorable terms for 2K) so as to release a game on the Xbox 360 for the 2013 season. With 2K knowing there was no future for the series and having very little time to produce the game the end product was even worse than just being a roster update of the previous year.
There is no indication that any company has interest in a third party licensing deal with the MLB at this time, which means Microsoft may not have baseball on its consoles even beyond 2014.
Read More: Xbox One Won't Have Baseball in 2014 – Assessing the Fallout from MLB 2K13
The Next Generation Arrives
The Xbox One and PlayStation 4 released in November and with them the first four sports games. While NBA 2K14 has been plagued by technical and design decisions as mentioned above, it did show off more than any of the others the potential of the new generation in terms of gameplay, presentation, and graphics.
FIFA 14 turned out to be the most well rounded of the titles offering a full feature set with significant enhancements to gameplay and atmosphere. Madden NFL 25 proved to be stable with a full feature set and improvements that have made the game more enjoyable and satisfying. NBA Live 14 however missed a window that was opened by 2K14's stumble by failing to reach even the lowest of expectations and reasonable consumer standards.
Watch More: Xbox One Release Hangout Special – NBA Live 14 Hangout Special – PS4 Release and Game Impressions Hangout Special
Other News of Note
Changes in leadership took place at Electronic Arts as Andrew Wilson was elevated to CEO. He began with the company in 2000 and most recently had run EA Sports since 2011. Patrick Soderlund, previously the head of the EA Games label, has taken over atop EA Sports.
Having slimmed down to just one game, 2K Sports made it two by securing the WWE license from the now defunct THQ. WWE 2K14 released in October for PS3/360 with the plan to make the next-gen jump next year.
EA Sports made the move to free-to-play games on mobile. Both FIFA 14 and Madden NFL 25 have been offered for free on iOS and Android with the focus shifted to Ultimate Team modes and in-app purchases. The reviews have been fairly positive and the games appear to have been made more relevant due to the decision.