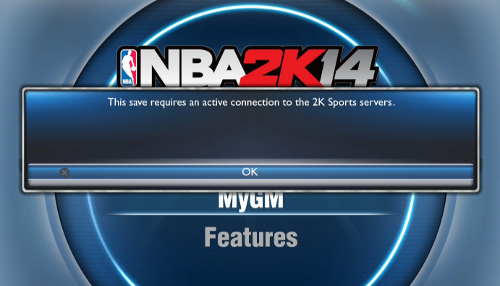 Consumers have struggled with the next-gen version of NBA 2K14 for various reasons since its release but the last week now has been especially painful. Server outages and related errors have persisted. Despite the efforts made to get things back up and running properly Monday the barriers to play remain for many and outrage is at a fever pitch on social media and elsewhere.
Unlike server trouble for most other games, which would knock out just the online-based modes, NBA 2K14 on the PS4 and Xbox One is built with an always-online structure that means just about everything is reliant on being connected to the servers. That includes the single player offline modes MyCareer and MyGM (formerly Association). The reasoning for such design ties back to the awful VC implementation that requires constant communication with the servers. It's not just Xbox One and PS4 owners facing trouble either as the 360 and PS3 versions of Online Association have been down as well.
While the crashing that has prevented people from playing their MyCareer and MyGM modes has only affected some, the last week of issues have hurt all consumers in one way or more. Whether that be the inability to play online games or MyTeam, or MyCareer and MyGM saves becoming inaccessible or even deleted, the new bugs in MyGM preventing changes to contract offers and advancing in the playoffs, or VC/money being lost in transactions, this is a troubling time for the high profile series that has seen its brand damaged severely in the process.