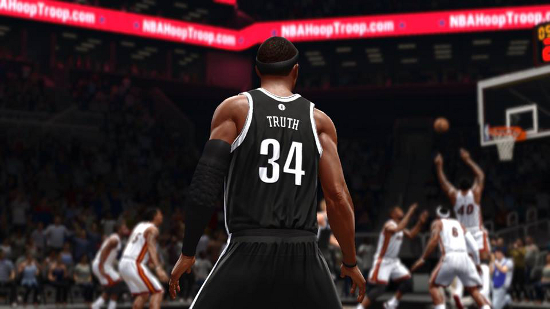 The lagging on roster updates from EA Sports for NBA Live 14 ended late last night after having gone a month without a new one. Along with the latest roster came the introduction of nickname jerseys for the Miami Heat and Brooklyn Nets. 
The roster update includes overdue moves like injuries to Kobe Bryant and Derrick Rose and the trade of Luol Deng to the Cavs.
Playing a game of Heat vs Nets will now prompt the nicknames to appear on the jerseys as well as replacing the names displayed under the players. This does not require a different jersey selection and at first seemed to have been made automatic given that they'll be worn in the remaining games between the two teams this season.
Unfortunately the nicknames are not just limited to the Heat-Nets games. The two teams have the nicknames show up in every game they're involved in and they even transfer to the players in Ultimate Team. It seems likely that they'll switch back to normal names with the next roster update and then Heat-Nets games won't even have them.
NBA Live 14 also shipped with the Christmas jerseys – something NBA 2K14 still doesn't have on Xbox One and PS4. Having additional jerseys by no means is a reason to buy the game but it's something fun worth noting.
This includes Ray Allen showing up as "J. Shuttlesworth", LeBron James as "King James", Norris Cole as "Cole Train", Chris Andersen as "Birdman", Paul Pierce as "Truth", and Jason Terry as "Jet". Andrei Kirilenko did not get "Кириленко" due to the characters and Kevin Garnett has "The" before "Big Ticket" – originally correct but causes it to not even fit on the back of the jersey.