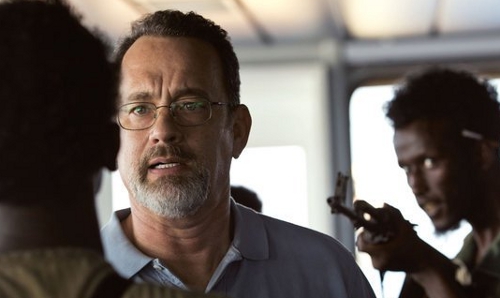 Captain Phillips
Captain Phillips is a multi-layered examination of the 2009 hijacking of the U.S. container ship Maersk Alabama by a crew of Somali pirates. It is – through director Paul Greengrass's distinctive lens – simultaneously a pulse-pounding thriller, and a complex portrait of the myriad effects of globalization. The film focuses on the relationship between the Alabama's commanding officer, Captain Richard Phillips, and the Somali pirate captain, Muse (Barkhad Abdi), who takes him hostage. Phillips and Muse are set on an unstoppable collision course when Muse and his crew target Phillips' unarmed ship; in the ensuing standoff, 145 miles off the Somali coast, both men will find themselves at the mercy of forces beyond their control. The film is directed by Academy Award nominee Paul Greengrass, from a screenplay by Billy Ray based upon the book, A Captain's Duty: Somali Pirates, Navy SEALs, and Dangerous Days at Sea, by Richard Phillips with Stephan Talty.

Machete Kills
Danny Trejo returns as legendary ex-Federale Machete Cortez in this action-packed thrill ride from innovative director Robert Rodriguez. In his latest mission, Machete is recruited by the U.S. President to stop a crazed global terrorist from starting a nuclear war. With a bounty on his head, Machete breaks all the rules as he faces death at every turn from a star-studded cast of deadly assassins.

Blue Jasmine
Cate Blanchett stars as a former New York socialite teetering between her troubled past and a fresh start in San Francisco.

In a World
An underachieving vocal coach is motivated by her father, the king of movie-trailer voice-overs, to pursue her aspirations of becoming a voiceover star.

Charlie Countryman
When his late mother appears in a vision and tells him to go to Bucharest, Charlie Countryman immediately boards a plane across the Atlantic. A chance encounter with an ailing passenger leads Charlie to Gabi, a Romanian beauty, changing the course of his entire trip. As he falls head-over-heels in love with Gabi, he realizes that her dark past is riddled with dangerous baggage: namely her gangster ex-husband who has no intention of letting Gabi go. Determined to protect her, Charlie enters into a hallucinatory underworld filled with violence and, strangely enough, love.

Freezer
Dylan McDermott of the TV Series Hostages and American Horror Story, stars as Robert Saunders, a New York City mechanic who is knocked unconscious at his birthday dinner and wakes up to find himself locked inside the restaurant's walk-in freezer. But why he's there – and how he'll survive – will reveal a chilling nightmare of mistaken identity, the Russian mob, a missing $8 million, and a wounded cop (Peter Facinelli of THE TWILIGHT SAGA) who may hold the key it all. The temperature is dropping. The fear is growing. And for a man caught between frozen death and vicious thugs, what happens next may lead to the most cold-blooded twist of all.

Comedy Bang Bang: Season One
Created, written by and starring Scott Aukerman (co-creator/director/producer, Between Two Ferns with Zach Galifianakis; writer/performer, Mr. Show) and based on Scott's popular podcast of the same name, Comedy Bang! Bang! infuses celebrity appearances and comedy sketches with a tinge of the surreal. In each episode, Aukerman engages his guests with unfiltered and improvisational lines of questioning, punctuated by banter and beats provided by his bandleader, one-man musical mastermind Reggie Watts (Conan). Packed with character cameos, filmic shorts, sketches and games set amongst an off-beat world, Comedy Bang! Bang! delivers thirty minutes of absurd laugh-loaded fun.