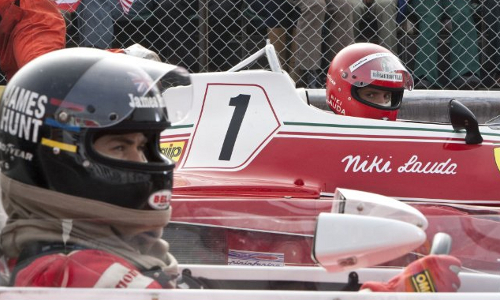 Rush
Two-time Academy Award-winner Ron Howard delivers the exhilarating true story of a legendary rivalry that rocked the world. During the sexy and glamorous golden age of Formula 1 racing, two drivers emerged as the best: gifted English playboy James Hunt (Chris Hemsworth, The Avengers) and his methodical, brilliant Austrian opponent, Niki Lauda (Daniel Brhl, Inglourious Basterds). As they mercilessly clash on and off the Grand Prix racetrack, the two drivers push themselves to the breaking point of physical and psychological endurance, where there's no shortcut to victory and no margin for error.

Cloudy With a Chance of Meatballs 2
In the wake of the disastrous food storm at the end of the first movie, Flint Lockwood and friends are forced to leave their town of Swallow Falls. But when it is discovered that sentient food beasts have overrun the island, they are asked to return to save the world again.

Jackass Presents: Bad Grandpa
86-year-old Irving Zisman is on a journey across America with one of the most unlikely companions, his 8 year-old grandson Billy in "Jackass Presents: Bad Grandpa". Irving Zisman (Johnny Knoxville) and Billy (Jackson Nicoll) will take movie audiences along for the most insane hidden camera road trip ever captured on camera. Along the way Irving will introduce the young and impressionable Billy to people, places and situations that give new meaning to the term childrearing. The duo will encounter child beauty pageant contestants (and their mothers), funeral home mourners, biker bar patrons and a whole lot of unsuspecting citizens. Real people in unreal situations, making for one really messed up comedy.

The Fifth Estate
Benedict Cumberbatch gives a brilliant performance as Julian Assange, the narcissistic, polarizing founder of WikiLeaks, in The Fifth Estate. This dramatic thriller, based on true events, reveals the Internet upstart's quest to expose the deception and corruptions of power – turning them into the 21st century's most fiercely debated organization. After Assange and his colleague Daniel Domscheit-Berg (Daniel Brühl) team up to shine a light on the dark recesses of government secrets and corporate crimes, they find themselves battling each other over whether the cost of exposing the truth to the public is too high. Riveting, smart and thought provoking, The Fifth Estate poses the ultimate question: "Hero or traitor?"

Last Vegas
Four best friends in their late-60's decide to escape retirement and throw a Las Vegas bachelor party for the only one of them who has remained single.

Downton Abbey: Season Four
Six months after Matthew's tragic death, his loss is still felt throughout Downton Abbey. Mary struggles to face a new future with her fatherless child, and is encouraged by the family to pick up the pieces. With the twenties in full swing and the tides of change sweeping through Downton, Rose's continued attraction to the bright lights of London spells trouble for the Crawleys, and Edith's budding relationship with Michael Gregson is threatened by events beyond her control. Meanwhile, below stairs, passions run high and young hearts look set to be broken. Writer and creator Julian Fellowes brings back this award-winning drama with the acclaimed ensemble cast led by Hugh Bonneville, Elizabeth McGovern, Michelle Dockery, and Maggie Smith, as well as guest stars Shirley MacLaine and Paul Giamatti. Special Features: Go behind the scenes and witness the making of Season 4 with more than 30 minutes of bonus video!

Treme: Season Four
In the series' final five episodes, which take place from November 2008 through Mardi Gras 2009, the promise of economic and cultural recovery – heightened by the historic election of a new president – is tempered by sobering economics, continued police corruption, and the ongoing specter of violence and crime. Still, the connection Treme's protagonists have with their city keeps them committed to its future – and to building their own legacy in this most iconic of American cities.