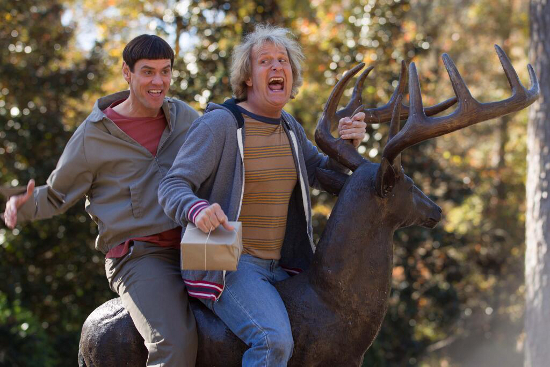 Universal has released the first shot of Jim Carrey and Jeff Daniels in the long-awaited sequel to the 1994 film Dumb and Dumber. In Dumb and Dumber To, Lloyd and Harry seek to find a long lost child in order to get a new kidney.
Jim Carrey and Jeff Daniels reprise their signature roles as Lloyd and Harry in the sequel to the smash hit that took the physical comedy and kicked it in the nuts: Dumb and Dumber To. The original film's directors, Peter and Bobby Farrelly, take Lloyd and Harry on a road trip to find a child Harry never knew he had and the responsibility neither should ever, ever be given.
The comedy classic made almost $250 million worldwide on a budget of just $17 million. Bringing back Carrey and Daniels once they became stars prohibited a sequel from being made earlier – and led to the awful 2003 prequel Dumb and Dumberer which featured other actors in the roles. Dumb and Dumber To is slated to release on November 14.