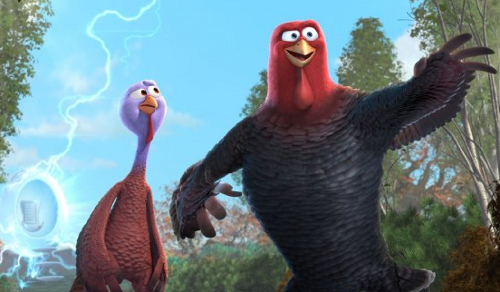 Free Birds
From the Academy Award-Winning producer of Shrek comes a hilarious animated adventure about two turkeys from opposite sides of the tracks who travel back in time in order to keep their species off the Thanksgiving menu. Featuring an all-star voice cast, including Owen Wilson, Woody Harrelson and Amy Poehler, Free Birds is loaded with laughs and stuffed with fun for the whole family!

Dallas Buyers Club
Matthew McConaughey gives the performance of his career in this uplifting and powerful film inspired by true events. Texas cowboy Ron Woodroof (McConaughey) sees his free-wheeling life overturned when he's diagnosed as HIV-positive and given 30 days to live. Determined to survive, Woodroof decides to take matters in his own hands by tracking down alternative treatments from all over the world by means both legal and illegal. After finding an unlikely ally in Rayon (Jared Leto), he establishes a hugely successful "buyers' club" and unites a band of outcasts in a struggle for dignity and acceptance that inspires in ways no one could have imagined.

About Time
The night after another unsatisfactory New Year party, Tim's (Domhnall Gleeson) father (Bill Nighy) tells his son that the men in his family have always had the ability to travel through time. Tim can't change history, but he can change what happens and has happened in his own life – so he decides to make his world a better place…by getting a girlfriend (Rachel McAdams). But as his unusual life progresses, Tim finds out that his unique gift can't save him from the sorrows and ups and downs that affect all families, everywhere. From filmmaker Richard Curtis (Love Actually, Notting Hill, Four Weddings and a Funeral), About Time is a comedy about love and time travel, which discovers that, in the end, making the most of life may not need time travel at all.

Escape Plan
One of the world's foremost authorities on structural security agrees to take on one last job: breaking out of an ultra-secret, high-tech facility called "The Tomb." Deceived and wrongly imprisoned, Ray Breslin (Sylvester Stallone) must recruit fellow inmate Emil Rottmayer (Arnold Schwarzenegger) to help devise a daring, nearly impossible plan to escape from the most protected and fortified prison ever built. ESCAPE PLAN is the first pairing of action legends Sylvester Stallone and Arnold Schwarzenegger in leading roles, and co-stars Jim Caviezel, Curtis "50 Cent" Jackson, Vinnie Jones, Vincent D'Onofrio and Amy Ryan.

Baggage Claim
Paula Patton leads a hilarious cast in this first-class comedy that'll keep you laughing and make your heart soar! Flight attendant Montana Moore (Patton) is smart, sexy and sick of being single. She's determined to get engaged before her younger sister's wedding, leaving just 30 days to make her connection. Fortunately, her co-worker crew has cooked up a high-flying scheme for Montana to "accidentally" bump into all her exboyfriends, leading to hilarious encounters as she attempts to land the perfect guy!

Thor: The Dark World (Instant Video Exclusive)
Marvel's "Thor: The Dark World" continues the big-screen adventures of Thor, the Mighty Avenger, as he battles to save Earth and all the Nine Realms from a shadowy enemy that predates the universe itself. In the aftermath of Marvel's "Thor" and "Marvel's The Avengers," Thor fights to restore order across the cosmos…but an ancient race led by the vengeful Malekith returns to plunge the universe back into darkness. Faced with an enemy that even Odin and Asgard cannot withstand, Thor must embark on his most perilous and personal journey yet, one that will reunite him with Jane Foster and force him to sacrifice everything to save us all.

DCU Justice League: War
Going back to a time when super heroes were new to our world, we learn how the Justice League came together during an alien attack of Earth.