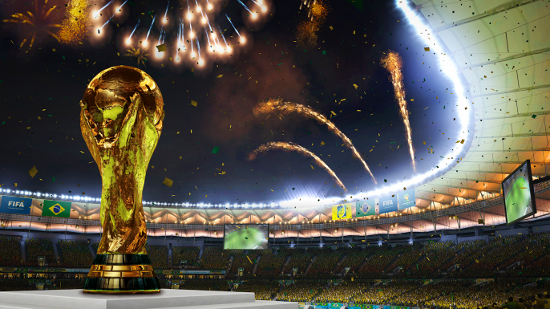 EA Sports today officially announced 2014 FIFA World Cup Brazil which will release on April 15 in North America and April 17 in Europe. In surprising news however the highly anticipated game will only release on the last generation of consoles. It will not be coming to Xbox One, PS4, or PlayStation Vita.
Shortly after the announcement EA made a statement addressing the decision to only release on Xbox 360 and PS3:
Why isn't our World Cup game on X1/PS4? We are making the best game we can for our largest audience, which is still on 360 & PS3.
The company has followed up by announcing that the Xbox One and PS4 versions of FIFA 14 will receive World Cup content and tournaments in Ultimate Team. That certainly falls far short of what fans would have hoped for with the standalone game every four years being incredibly popular. 2010 FIFA World Cup always comes up in discussion of favorite games of the 360/PS3 generation and the new systems missing out on that potential is unfortunate.
Please enable Javascript to watch this video
Features
World Class Control – all-new control system which includes additional dribbles and flicks. New passing animations, including both ground and outside of the foot curling passes, will open the door to more attacking options.
Set Piece Tactics – Use the D-pad to command your teammates and strike fear from set pieces and corners.
New Penalty Kicks – New save animations and shot tuning puts players in control of their nation's fate. Keepers can throw off kick-takers by performing different animations including wobbly-knees, matador, and shoot-it-there points.
Over-the-Back Headers – Now defenders can leap over attacking players to clear the ball to safety.
adidas Ball Physics – We've partnered with the official football supplier of the FIFA World Cup to ensure the Brazuca and other adidas footballs behave as they would in the real world.
Game Modes
Road to the FIFA World Cup™ – The most immersive tournament mode in EA SPORTS FIFA history. Choose from any of the 203 National Teams sanctioned by FIFA and play with up to 32 players locally through the qualifying rounds, and proceed on to the group stage of the 2014 FIFA World Cup Brazil™.
Road to Rio de Janeiro™ – Compete online with any of the 203 National Teams and progress across a map of Brazil's 12 host cities. Win the final and hoist the FIFA World Cup Trophy at Estadio do Maracana in Rio.
Captain your Country – The popular FIFA game mode returns. Work your way through the squad list and lead your country through qualifying and to FIFA World Cup glory.
Story of Qualifying – Over 60 real scenarios taken directly from 2014 FIFA World Cup qualifying. Relieve, recreate and/or change the outcome of some the best matches.
Additional Modes include 2014 FIFA World Cup, Kick Off, Skill Games, Online Friendlies, EA SPORTS Football Club
Presentation
Patriotic Presentation – Banners, flags and even see fans cheer from home with all new crowd rendering that brings the World Cup atmosphere alive.
EA SPORTS Talk Radio – Dynamic tournament updates from a number of ESPN talents, delivering over 50 hours' worth of recorded audio that adapt to your own FIFA World Cup Experience
203 nations, 7,469 players, 19 officially licensed managers, 21 stadiums, including all 12 authentic stadiums in Brazil, and over 15 hours of added in-game commentary.