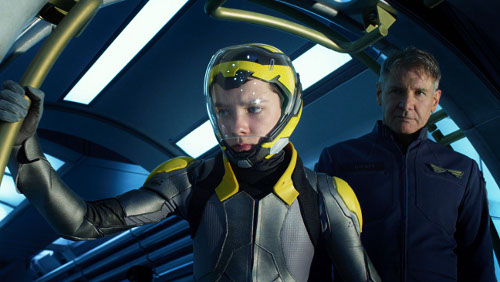 Ender's Game
In the near future, a hostile alien race has attacked Earth. If not for the legendary heroics of International Fleet Commander Mazer Rackham (Ben Kingsley), all would have been lost. In preparation for the next attack, the highly esteemed Colonel Hyrum Graff (Harrison Ford) and the International Military are training the best and brightest young children to find the future Mazer. Ender Wiggin (Asa Butterfield), a shy, but strategically brilliant boy is pulled out of his school to join the elite.

Gravity (Early Instant Video Exclusive)
Astronauts Ryan Stone (Sandra Bullock) and Matt Kowalski (George Clooney) are on a routine spacewalk when disaster strikes. Their shuttle is destroyed leaving them alone in space – tethered to nothing but each other.

All Is Lost
Academy Award winner Robert Redford stars in ALL IS LOST, an open-water thriller about one man's battle for survival against the elements after his sailboat is destroyed at sea. Using only a sextant and nautical maps to chart his progress, he is forced to rely on ocean currents to carry him into a shipping lane in hopes of hailing a passing vessel. But with the sun unrelenting, sharks circling and his meager supplies dwindling, the ever-resourceful sailor soon finds himself staring his mortality in the face.

The Best Man Holiday
Share the laughter, love, and surprises as Harper (Taye Diggs), Lance (Morris Chestnut), Quentin (Terrence Howard), Jordan (Nia Long), Robyn (Sanaa Lathan), Mia (Monica Calhoun), Murch (Harold Perrineau), Candy (Regina Hall) and Shelby (Melissa De Sousa) all reunite for the first time in years. When the college friends get together, they soon discover how easy it is to reignite long-forgotten rivalries and romances, all while new discoveries are made and secrets are revealed.

Counselor
An all-star cast, featuring Michael Fassbender, Brad Pitt, Cameron Diaz, Javier Bardem, and Penelope Cruz, from visionary director Ridley Scott and Acclaimed Novelist, Cormac McCarthy. A talented lawyer (Fassbender) known for doing the right thing for the wrong people decides to put his connections to the test by diving into a treacherous drug deal for some quick cash. But The Counselor soon learns that having it all could mean losing everything.

Austenland
Obsessed with all things Austen, a woman travels to a Jane Austen resort/theme park in Britain, where all her regency-era fantasies come to life.

Sherlock: Season Three
The question on everyone_es lips is finally answered as the hugely popular Sherlock returns in three brand new action-packed adventures. With the demise of Moriarty, Sherlock finds himself locked in another mind battle with the powerful Charles Augustus Magnussen, who is holding the secrets of the world at his fingertips. Once again, the game is on for Sherlock and John in The Empty Hearse, The Sign of Three, and finally His Last Vow.

The Americans: Season One
Secrets can be deadly in this suspenseful thriller about undercover Russian spies in 1980s Washington, D.C. Philip (Matthew Rhys) and Elizabeth Jennings (Keri Russell) seem to be a typical suburban couple, but they're actually lethal KGB agents plotting to bring down America. As the Cold War escalates, Philip and Elizabeth must take extreme measures to continue their mission and keep their true identities hidden. But when an FBI agent moves in across the street, they become ensnared in a pulse-pounding game of cat and mouse.