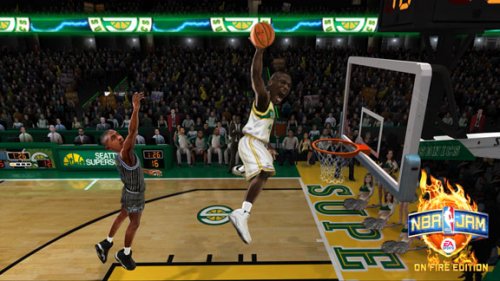 A tweet today from the the EA Sports NBA Jam account suggests that a new game is in development and could release later this year. The account had been dormant for almost two years until it awoke on Sunday. Remember that last year EA was play-testing what was said to be a new concept for an NBA game so this could be it.
While naturally everyone will jump to the conclusion that NBA Jam will be coming to the Xbox One and PS4 it's no certainty. EA just skipped over the new consoles for 2014 FIFA World Cup. This could even end up being another mobile game given the popularity of their first effort. When it would release – say during the NBA Playoffs or next fall – would probably be a factor in what platforms it would be coming to as well.
The company resurrected NBA Jam in some ways as a stop-gap as they failed to produce NBA Elite and Live from 2010-13. The first attempt in 2010 was not received all that well, but the downloadable On Fire Edition that came out less than a year later was much better.
Another edition of NBA Jam would make for the third unanticipated sports game reveal of 2014 joining The Golf Club and R.B.I. Baseball 14.