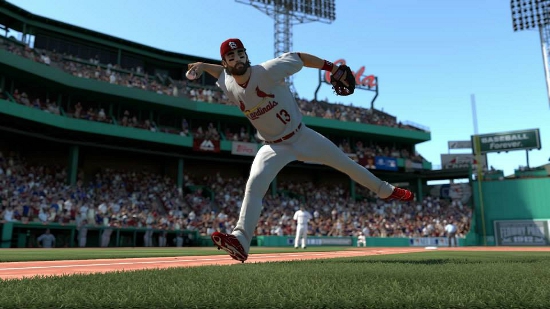 Earlier today SCEA announced release dates for MLB 14: The Show placing the PS3 and Vita on April 1st and the PlayStation 4 sometime in May. In addition to the PS4 screenshots and PS3 trailer that accompanied that news, the company has also now released the slate of high-level features for the game.
Though the PS4 will have obvious advantages due to its advanced hardware, the slate of modes and new additions will be nearly the exact same for the two home consoles. That includes Online Franchise, save migration from year-to-year, and the "Quick Counts" option to speed up games. More details are expected next week in the way of an expanded features list but the most impactful changes to anticipate have been laid out in the meantime.
Next Generation Baseball Has Arrived
MLB 14 The Show makes its next-gen debut on the PS4 system, utilizing the system's vast resources to deliver exceptionally detailed and fluid gameplay. With improvements to presentation, a wealth of added animations, and a dramatic increase in environment and player detail, we are setting out to create the best-looking and best-playing baseball sim ever created.
Year-to-Year Saves (PS3/Vita/PS4)
For the first time in franchise history, saves can be carried over from MLB 14 to future releases of The Show, meaning that gamers won't have to worry about starting their Franchise or Road to the Show seasons over in years to come.
Player Lock (PS3/Vita/PS4)
The new Player Lock feature (a.k.a RTTS anywhere) gives users the ability to lock-on to any single player and enter games using the Road to the Show gameplay mechanic, allowing for faster games and more focused on-field action.
Quick Counts (PS3/Vita/PS4)
Users will now be able to play a full nine-inning game in less than 30 minutes, half the time it takes in previous iterations of The Show. Despite the shortened game durations, realistic stats will not be compromised.
Universal Profile (PS3/PS4)
A new tendency-tracking system monitors and records gamers' unique playing styles. Those patterns are stored in the Universal Profile, which can be viewed by anyone looking to get a quick scouting report on the player. The Universal Profile can also be subbed in in place of a CPU opponent in Diamond Dynasty and Online Franchise, making for more realistic head-to-head matchups when schedules prevent synchronous play.
Community Challenges (PS3/PS4)
Players will be able to freely toy and tinker with game situations and scenarios on the fly, whether that's the inning, score, who's on base, or where the ball is hit. These custom situations can be bundled with a creative set of goals and put forth as a challenge to the community, whether it's to relive the past, change history, or dream of new possibilities.
Online Franchise (PS3/PS4)
Finally, Franchise mode can be shared with friends online, with most of the features from the offline version making the transition, including Scouting, the Amateur Draft, Free Agency and CPU Trades. The mode will remain highly customizable as scheduling, divisions, postseason spots and more are all commissioner options.
Stubs (PS3/Vita/PS4)
Playing games in MLB 14 The Show rewards players with Stubs. Stubs can be used to purchase additional in-game content – like Road to the Show training points – or used in our new mode, Community Challenges. Stubs can be earned in any mode, and they are not required to progress through a mode. You can still purchase additional in-game content through the PlayStation Store.
Diamond Dynasty Extra Innings (PS3/PS4)
In this mode, a player's team is always looking for opportunities to challenge other users in an offline setting, which allows the user to earn bonus rewards the next time they log in. When online, the player has the opportunity to challenge other user-created teams in an offline game where the CPU controls their team. Players can only benefit positively in this mode even if their team does not perform up to their normal standards.