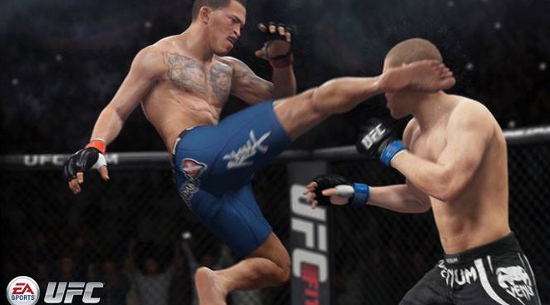 Earlier this week EA Sports released a new trailer for UFC touting the realism being built into the fighters. The company followed that up with more information on how they are being crafted to represent their unique nature – both in how they look and how they fight. 
Beyond Fighter Likeness
Reality is in the details. In the past, games could only recreate certain aspects of an athlete's likeness. In EA SPORTS UFC, the true essence of each fighter's appearance has been designed down to the very last detail.
After scanning fighters using the most advanced capture technology available, our developers have integrated high-res textures and dynamic lighting to bring an unparalleled level of realism to each and every character model in the game.
Emotion in Action
EA SPORTS UFC's advanced capture process goes far beyond the surface to capture unique expressions and reactions, specific to the fighters themselves.
Instead of generic expressions, UFC stars will react just as they would in real life, providing a true range of emotion and credibility to fighters on the EA SPORTS UFC roster.
Octagon Awareness
Not only will athletes in EA SPORTS UFC each feature believable looks and personality, expect them to display a sense of awareness and intelligence throughout their fights.
From eyes that track opponents to facial expressions that change as each fight unfolds, every character in EA SPORTS UFC will act the way they would in a real fight.
Reach Advantage
Faces don't win fights, and for that reason just as much attention has been put into each fighter's unique physical attributes as we did their features.
Arms, legs and torsos have all been recreated to scale in-game, providing fighters the same advantages in EA SPORTS UFC that they would have in the real Octagon. Whether you're powering through takedowns with Benson Henderson's massive legs, or picking opponents apart with Jon Jones' reach, every action in the Octagon will feel accurate and authentic.
Signature Moves
The UFC's biggest personalities all do things a little differently. EA SPORTS UFC has captured hundreds of distinctive fighter animations ranging from walkout rituals to knockout celebrations that make the fighters feel more like themselves than ever before.