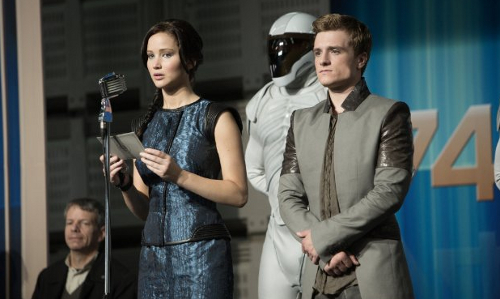 The Hunger Games: Catching Fire
Katniss Everdeen and Peeta Mellark become targets of the Capitol after their victory in the 74th Hunger Games sparks a rebellion in the Districts of Panem.


12 Years a Slave
Chiwetel Ejiofor stars as Solomon Northup, the New York State citizen who was kidnapped and made to work on a plantation in New Orleans in the 1800s. Steve McQueen (Hunger) directs from a script he co-wrote with John Ridley, based in part by Northup's memoir. Michael Fassbender, Brad Pitt, Benedict Cumberbatch, Sarah Paulson, and Paul Giamatti co-star.


Hours
Before sunrise on August 29, 2005, Nolan Hayes (PAUL WALKER) arrives at a New Orleans hospital with his pregnant wife, Abigail (GENESIS RODRIGUEZ), who has gone into early labor. What should be one of the happiest days of Nolan's life quickly spirals out of control when the birth goes tragically wrong and Hurricane Katrina ravages the hospital, forcing an evacuation. Told to stay with his child, who is on a ventilator, and await transfer by ambulance, Nolan and his newborn are soon cut off from the world by power outages and rising floodwaters. When no one returns to help, Nolan faces one life-and-death decision after another, fighting to keep his daughter alive, as minute-by-agonizing minute passes…becoming unimaginable hours.


Oldboy
OLDBOY is a provocative, visceral thriller that follows the story of Joe Doucette, a man who is abruptly kidnapped and held hostage for 20 years in solitary confinement, for no apparent reason. When he is suddenly released without explanation, he begins an obsessive mission to find out who imprisoned him, only to discover that the real mystery is why he was set free. Co-starring Elizabeth Olsen and Sharlto Copley, OLDBOY was directed by Spike Lee, from a script by Mark Protosevich (I Am Legend, The Cell, Thor).


Super Bowl XLVIII Champions: Seattle Seahawks
NFL Films takes you down the sidelines, on the field and into the locker room with exclusive access to all the vivid sounds and images of every game in the memorable 2013-2014 season of the Championship team coupled with exciting extra content detailing stores from the year, media day at Super Bowl XLVIII, and the thrilling Lombardi Trophy Presentation.


Doctor Who: The Time of the Doctor
In this hugely anticipated follow-up to the record breaking Doctor Who 50th Anniversary Special, we bid adieu to Eleventh Doctor Matt Smith and welcome Peter Capaldi (The Thick of It, The Hour) in his first televised appearance as the new Doctor. Orbiting a quiet backwater planet, the massed forces of the universe's deadliest species gather, drawn to a mysterious message that echoes out to the stars. And amongst them – the Doctor. Rescuing Clara from a family Christmas dinner, the Time Lord and his best friend must learn what this enigmatic signal means for his own fate and that of the universe. This landmark episode is bound to be a thrilling adventure for the ages.