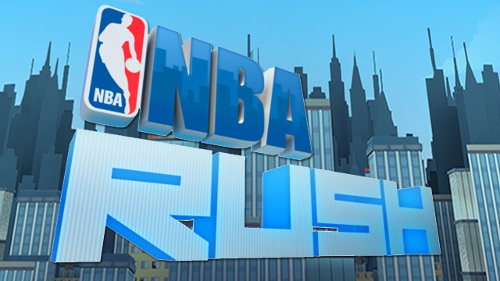 by Brendan Wilhide
In the freemium iOS game NBA Rush, you control an NBA star and fight back against an alien invasion using dunks, crossovers and sprints. This arcade game is short on story but long on the "just one more turn" feeling and that's a good thing for casual fans looking to kill a few minutes.
The game itself is slight variation on the runner genre–you control a player as they run through the environment, dodging obstacles, collecting coins for points and taking out aliens along the way. The controls are simple: tap left to go left, tap right to go right, etc. You can also jump over or slide under obstacles. 
You earn points in clearing areas of the game by dunking on aliens in mid-air and collecting coins and diamonds along the way. Coins and diamonds allow you to unlock better players in packs–my first included Joakim Noah, for example–and allow you to assemble a deeper roster of stars.
NBA Rush comes loaded with IAP (in-app purchases) and, while it's certainly possible to progress through the game without spending a dime, some users may opt to purchase new players to progress faster. The badger screens can become annoying quickly, especially when the game offers you a chance to continue for the price of precious diamonds.
While NBA Rush has little in common with the NBA 2K series or even the ever popular fellow arcade series NBA Jam, it remains a fun challenge for NBA fans looking to kill a few minutes here and there on the go.
Brendan Wilhide is a contributor to PastaPadre. You can find him on Twitter – @BrendanWilhide.