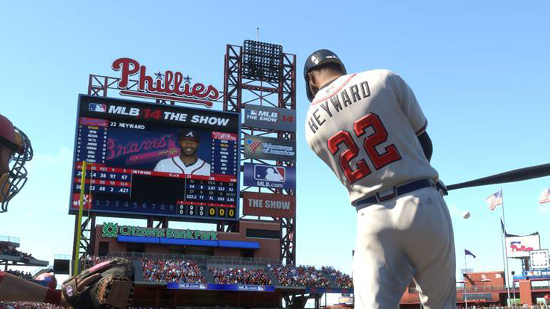 While those eagerly anticipating the PlayStation 4 version of MLB 14: The Show had to be happy that the game would be out the first Tuesday of May – the earliest possible date once SCEA announced it would land that month – the short five week gap from the PlayStation 3 version releasing has only amplified the perceived necessity of a "trade-up" program.
If the company hopes to get consumers who have held on to their PS3 to buy the game before also getting it on their PS4 they'll need to offer the incentive. The poll results last month showed there is very limited interest in the PS3 version particularly for those with a PS4. That segment could easily be boosted by letting those people essentially rent the PS3 game for $10 for those first five weeks before being able to take their saves to the PS4. Considering The Show is essentially the same on the two consoles besides technical improvements that would be a beneficial offering for both sides. 
At launch of the PS4 Sony offered digital upgrades for $10 on four games. Retail copies even received a code to get the digital copy later. Something similar even if limited to digital copies would make a lot of sense. EA Sports had their own upgrades exclusive to Xbox One but retailers like Gamestop and Amazon were offering it themselves on a wide variety of titles.
If there are plans for a PS3 to PS4 "trade-up" program for MLB 14: The Show there is now only a matter of days to announce it. The idea behind it would be to prop up sales on the PS3 so the earlier it would be rolled out the more advantageous it would be. Sony announced that digital upload program about two months before the PS4 arrived. It was a good way to encourage consumers to move from their console to the new one as well as support the products on both.
The PS3/Vita combo pack (which saved $20 when buying together) for MLB 12 was announced just four days before the game's release. So there is some precedence to a promotion showing up at the last minute. The same offer was made for MLB 13 though that one was put in place a month in advance. So far there has been no word on the status of that combo pack for MLB 14.
Whether it is Sony or the retailers themselves that decide to offer a trade-up deal for MLB 14: The Show consumers are clearly looking for it. At this point though the safe assumption to make would be that one isn't coming.