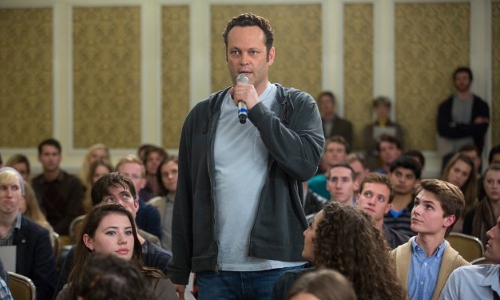 The Wolf of Wall Street
Revered filmmaker Martin Scorsese directs the story of New York stockbroker Jordan Belfort (Leonardo DiCaprio). From the American dream to corporate greed, Belfort goes from penny stocks and righteousness to IPOs and a life of corruption in the late 80s. Excess success and affluence in his early twenties as founder of the brokerage firm Stratton Oakmont warranted Belfort the title – "The Wolf of Wall Street." Money. Power. Women. Drugs. Temptations were for the taking and the threat of authority was irrelevant. For Jordan and his wolf pack, modesty was quickly deemed overrated and more was never enough.

Delivery Man
In this heartwarming comedy, underachiever David Wozniak (Vince Vaughn) learns he's actually an overachiever — he's fathered 533 children via donations made twenty years earlier! David soon discovers that the shock of his life might just be the best thing that's ever happened to him. Along the way he discovers not only his true self, but also the father he could become. Also starring Chris Pratt and Cobie Smulders — and complete with bonus materials, it's a feel-good movie that really delivers.

The Hobbit: The Desolation Of Smaug (Early Instant Video Exclusive)
Includes a vist to the set hosted by Peter Jackson! The Hobbit Bilbo Baggins continues his adventure with Gandalf and Thorin Oakenshield, encoutering the vicious dragon Smaug.

Walking With Dinosaurs
The gigantic voice talents of Justin Long (ALVIN AND THE CHIPMUNKS franchise) and John Leguizamo (ICE AGE franchise) take you on a thrilling prehistoric journey the whole family will enjoy! In a time when dinosaurs rule the Earth, the smallest of the pack — a playful Pachyrhinosaurus named Patchi — embarks on the biggest adventure of his life. As he tries to find his place in a spectacular world filled with fun-loving friends and a few dangerous foes, Patchi will discover the courage he needs to become the leader of the herd and a hero for the ages.

Californication: Season Six
In the sixth season of CALIFORNICATION, Hank (David Duchovnny) tries to collaborate on a rock opera based on his book with a famous rock star while taking up with his beautiful muse; Charlie and Stu compete for the affections of Marcy; Marcy falls under the spell of a seriously radical feminist; Becca drops out of college to become a writer. Now you can watch it all with the release of the CALIFORNICATION: SIXTH SEASON collection.