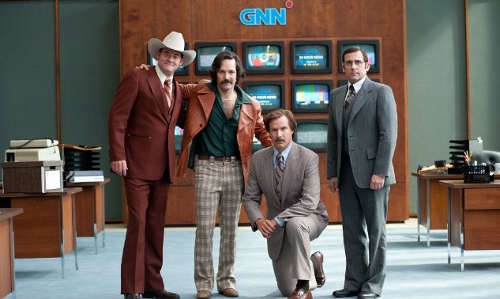 Anchorman 2
With the 70's behind him, San Diego's top rated newsman, Ron Burgundy (Will Ferrell), returns to the news desk in 'Anchorman 2: The Legend Continues.' Also back for more are Ron's co-anchor and wife, Veronica Corningstone (Christina Applegate), weather man Brick Tamland (Steve Carell), man on the street Brian Fantana (Paul Rudd) and sports guy Champ Kind (David Koechner) – All of whom won't make it easy to stay classy… while taking the nation's first 24-hour news channel by storm.

47 Ronin
Keanu Reeves stars in the action-adventure epic, 47 Ronin. After a treacherous warlord kills their master and banishes their kind, 47 leaderless samurai vow to seek vengeance and reclaim their honor. This band of ronin must seek help from Kai (Reeves)—an enslaved half-breed they once rejected—in their ultimate fight for redemption in a savage world of mythic and wondrous terrors. Kai becomes their most deadly weapon and the heroic inspiration for these outnumbered warriors to confront their enemy and seize eternity.

Knights of Badassdom
A group of costumed "Live Action Role Players," dressed as knights, elves and other medieval characters, take to the woods for "The Battle of Evermore." But when a make-believe wizard casts a spell from an ancient book, purchased on eBay, fantasy becomes reality as a powerful demon manifests itself. Can these pretend warriors muster the courage to save themselves and the rest of humanity?

The Pirate Fairy
From the world of Peter Pan comes The Pirate Fairy, a swashbuckling new adventure about Zarina (voice of Christina Hendricks), a smart and ambitious dust-keeper fairy who's captivated by Blue Pixie Dust and its endless possibilities. When Zarina's wild ideas get her into trouble, she flees Pixie Hollow and joins forces with the scheming pirates of Skull Rock, who make her captain of their ship. Tinker Bell (voice of Mae Whitman) and her friends must embark on an epic adventure to find Zarina, and together they go sword-to-sword with the band of pirates led by a cabin boy named James (voice of Tom Hiddleston), who'll soon be known as Captain Hook, himself. Enjoy the laughter, heart, magic and thrills of The Pirate Fairy.

The Secret Life of Walter Mitty (Amazon Early Instant Video Exclusive)
Ben Stiller directs and stars in this inspiring story about an ordinary man who finds the courage to discover his destiny and leap into the extraordinary adventure that is life.

Psych: Season Eight
Case-cracking "psychic" detective Shawn Spencer (James Roday) and his best friend Burton "Gus" Guster (Dulé Hill) have their hands full getting to the bottom of crime-filled conundrums around Santa Barbara. From a prestigious paranormal police consultant convention to zombie nightmares, Shawn and Gus need all the help they can get as new hijinks and tests arise for your favorite sleuths in this eighth and final season of Psych. Witness every episode back-to-back and uninterrupted of the final hilarious season featuring a gaggle of guest stars including Mira Sorvino (Romy and Michele's High School Reunion), Tom Arnold (Sons of Anarchy), Loretta Devine (The Client List), and Bruce Campbell (Burn Notice).