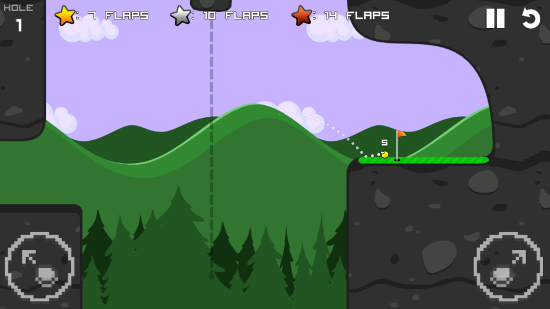 Though it may not qualify as a pure sports game Super Stickman Golf and its sequel have been recognized for being among the most fun games for mobile devices. The developers of SSG, Noodlecake Studios, recently released a spin-off called that goes by two different names: Flappy Golf for iOS and Golfy Bird for Android.
As the names would suggest it takes elements from the insanely popular (at least for a few weeks before the creator pulled it from the store) Flappy Bird and combines it with SSG. Two on-screen commands move the ball left or right with the goal to hole it in the least number of "flaps". All the assets for the game are pulled in from SSG but the new way to play makes it feel like a whole new experience.
The popularity of the game has already prompted Noodlecake to work on an update that is expected to release within the next week on iOS with Android following later. That will deliver the ability to pay to be ad-free and real-time multiplayer with up to eight people involved.
Flappy Golf/Golfy Bird is free can be downloaded for iOS devices through iTunes and for Android from Google Play.