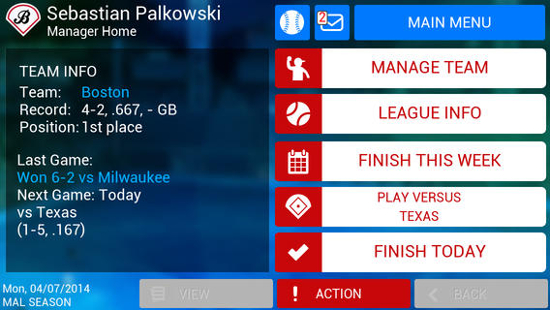 Arguably the best sports management sim available for mobile devices, the latest edition of iOOTP Baseball has released for the iPhone, iPod touch, and iPad.
The app is $5 and this year the new features include updated rosters, a redesigned interface, a player editor, and retina support. For the first time an Android version is in the works and that is expected to release this summer. 
New features in iOOTP Baseball this year
♦Real 2014 rosters and schedule! Every player on every major league team is available, along with the top 20 minor league prospects for each team.
♦Major league player ratings are based on PECOTA by Baseball Prospectus, the best player projection system today.
♦Player Editor: Make adjustments to player ratings and bio info, or put yourself in
♦Redesigned interface
♦Improved play-by-play commentary and news stories
♦Improved AI engine
♦iPhone 5 and full Retina support
♦Universal build, the iPad HD version is included for free!
♦Plenty of small tweaks & improvements

iOOTP Baseball 2014 features a living world that uses the same robust simulation engine found in Out of the Park Baseball for Mac and PC, the best-selling and best-rated baseball management game of all time. Out of the Park Baseball is the second-highest-rated PC game ever on Metacritic and also received the PC Gamer Sports Game of the Year Award.

The game offers three gameplay modes:

Major Leagues
Choose a team and play out the 2014 season. Will Kershaw again dominate the NL? How will Tanaka perform under the Spotlight in New York? How does Mike Trout continue his excellent young career? Find out!

Fictional
iOOTP creates one of four fictional baseball worlds and populates it with fresh players and clubs. Select a team and build a dynasty from scratch.

Historical Replay
Choose one of three past seasons — 1919, 1939, or 2012 — and see if it produces a different outcome. Every other year in history is available as in-app purchase!

♦Managerial options that enable players to set lineups, pitching rotations, and depth charts before taking the field to make in-game calls, including when to issue hit-and-run and steal signs, how to configure the defense, when to pull pitchers and put in pinch-hitters, and more.
♦Players can also let the computer handle those decisions and set a series of sliders that dictate overall strategies, such as aggressiveness on the base paths, how often to pitch around batters, and more. They can simulate the season a day or a week at a time, jumping back in to manage games whenever they want.
♦A play-by-play text stream that describes what's happening on the field during the game, making it feel like a radio broadcast.
♦An in-depth financial system that allows players to unleash their inner GMs. Are they "Moneyball" disciples, looking for undervalued players who help the team win while keeping payroll low, or are they free-wheeling, Steinbrenner-like spenders seeking high-profile free agents?
♦Players oversee trades, negotiate contract extensions, sign free agents, draft players, cultivate minor league prospects, move players between the active roster, minor league roster and disabled list, and more.

As iOOTP's living world evolves, players develop their careers, age, and eventually retire, with a possible spot in the Hall of Fame waiting for them. New players drafted by you and groomed in the minors take their place and become the next generation of superstars. iOOTP Baseball is the ultimate game for baseball fans!