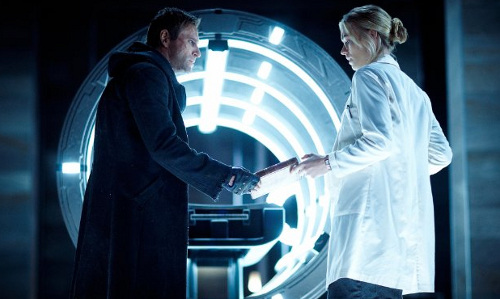 I, Frankenstein
Set in a dystopic present where vigilant gargoyles and ferocious demons rage in a battle for ultimate power, Victor Frankenstein's creation Adam (Aaron Eckhart) finds himself caught in the middle as both sides race to discover the secret to his immortality. From the creators of the hit supernatural saga, UNDERWORLD, comes the action thriller I, FRANKENSTEIN, written for the screen and directed by Stuart Beattie based on the graphic novel "I, Frankenstein" by Kevin Grevioux, and brought to life by a cast that includes Aaron Eckhart, Bill Nighy, Yvonne Strahovski, Miranda Otto, Jai Courtney, Socratis Otto, Mahesh Jadu, Caitlin Stasey and Aden Young as Victor Frankenstein.

Her
Spike Jonze takes the helm for this comedy about a withdrawn writer (Joaquin Phoenix) who falls in love with his computer's highly advanced operating system.

That Awkward Moment
Every relationship has that "so" moment. For a guy like Jason (Zac Efron), that's where things always end. He's firmly committed to non-commitment. When the marriage of his friend Mikey (Michael B. Jordan) falls apart, Jason takes it as proof that the single life is for the better. To get Mikey back in the game, Jason enlists him and drinking buddy Daniel (Miles Teller) to take a shared vow: together, they'll stay single as long as humanly possible. Then along comes Ellie (Imogen Poots), the unpredictable, unforgettable one-night hook-up who changes all the rules. Despite all his instincts, Jason just can't let her go… and his status is about to get very complicated.

Pompeii (Early Instant Video Exclusive)
Set in 79 A.D., POMPEII tells the epic story of Milo (Kit Harrington), a slave turned invincible gladiator who finds himself in a race against time to save his true love Cassia (Emily Browning), the beautiful daughter of a wealthy merchant who has been unwillingly betrothed to a corrupt Roman Senator (Kiefer Sutherland).

Longmire: Season Two

Orange is the New Black: Season One

Eastbound & Down: Season Four
HBO presents the final season of the hit comedy series about former major-league pitching ace Kenny Powers (Danny McBride), who after finally making it back to the majors at the end of Season 3, faked his death and ran back home to his beloved April and son Toby. The new season takes place several years later; Kenny has married April, had another child (a daughter named Shayna, after his late pal Shane), and has more or less stayed the course he promised April, though he hates his job as Assistant Manager at a car-rental outlet in North Carolina. In his down time, instead of boozing and doing drugs, Kenny dabbles in writing a screenplay, "The Kenny Powers Saga," shares couples nights with the numbingly boring Gene & Dixie and Tel & Viv, and accompanies April to bland awards dinners for realtors. The vices of his playing days are a thing of the past – until Kenny runs into Guy Young, a onetime teammate and current host of the raucous TV talk show Sports Session. Guy convinces Kenny to quit the rat race and get back in the game – as a celebrity "titan" who deserves greatness and the lifestyle of the rich, famous, and arrogant.