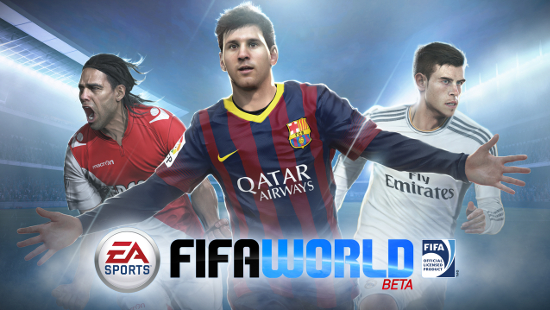 EA Sports today launched a worldwide open beta for the free-to-play PC game FIFA World. A deep feature set includes multiple control options, 31 league licenses, Ultimate Team, Online Seasons, and in-game social feed. Sign up for the beta and download the game from the official site for FIFA World. Continue on for a trailer and more details on the features! 
FIFA World Ultimate Team
Build your own unique club that plays your style of football and hit the pitch to compete in online and offline modes. Play the 24/7 transfer market and strategically outwit other gamers in buying, selling and trading the world's greatest superstars to create your Ultimate Team.
League Mode
Lead your favorite real-world club to victory in Online Seasons and experience the drama of promotions and relegation as you battle against other community players to climb the league tables and reach the top flight.
Accomplishments
Complete challenges and earn rewards for in-game tasks revolving around gameplay, transfer market, tournaments, online play and more. Check FIFA World daily for limited time accomplishments that reflect activity from the real world of football and accomplish to earn coins, packs and XP!
Accessible Controls
Play with traditional gamepad devices, keyboard controls or try the new mouse based controls that are simple to use, but a challenge to master; and offer first time FIFA players and casual fans an easy and intuitive way to play. The choice is yours!
EAS FC Social Hub
Capture and share spectacular goals and beautiful moments you create on the pitch and instantly post them to the in-game social feed. Keep up with your friends' in-game activity and debate and discuss the latest results and highlights with the community.
Single Player Tournaments
Enter your Ultimate Team into single player tournaments and challenge football clubs from around the world! Win trophies and you'll unlock new tournaments while earning rewards to boost your squad.
Feature Tournaments
Every week new featured tournaments put your Ultimate Team in the spotlight, challenging you to beat some of the world's best clubs to earn even bigger rewards for your Ultimate Team including coins and packs!
Match Invites
Challenge your friends to an Ultimate Team showdown and see who has what it takes to rule the pitch.
Player Impact Engine
The physics engine is built to deliver real-world physicality in every interaction. Experience an infinite variety of natural and believable outcomes in every contact. Players feel resilient on the ball, push and pull during the fight for possession, and recover from light challenges more easily, preserving their natural momentum.
Pro Player Intelligence
CPU players are infused with self- awareness and aptitude, enabling them to make decisions based on their own skills as well as the strengths and attributes of their teammates. Additionally, teams will vary their attack based on the strengths of their players on the pitch, and the weaknesses of opposing players, creating a more authentic experience and greater variety of matches.
Tactical Defending
The defending mechanism places equal importance on positioning, intercepting passes and tackling at the right moment. Tactics and timing are crucial.
Precision Dribbling
Enjoy new ways to take on opponents, more time on the ball to make decisions, and complete control of the pace of the game. Utilize close dribble touches in tight spaces, on the wings, and even while fending off an opponent.
Complete Authenticity
31 officially licensed leagues, more than 600 clubs and 16,000 players.
Please enable Javascript to watch this video