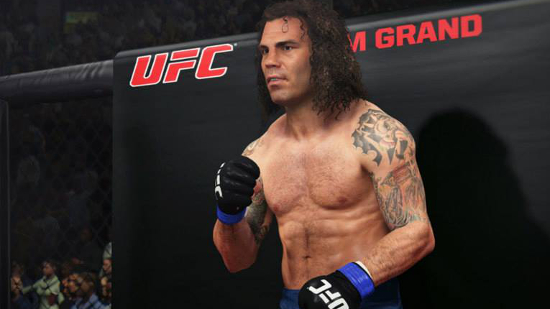 Earlier this week the first gameplay footage of EA Sports UFC arrived and the company followed up on that with additional information including the entire roster. There are 99 fighters split between 9 divisions. That's more fighters than THQ's first attempt at UFC in 2009 but less than they included in the 2010 sequel and Undisputed 3. Keep in mind that those games also had fewer divisions meaning greater depth in those present and other creations like separate Pride versions in the final edition of the franchise before THQ went under.
Though most are a given considering the licensing there are some notable individuals not included. Topping the list are Josh Barnett, Stipe Miocic, Anthony Johnson, Tim Kennedy, Tyron Woodley, Raphael Assuncao, T.J. Dillashaw, and Ali Bagautinov – all of which are ranked in the top half of their respective divisions. Expect many of them, and others, to be offered as DLC later.
Continue on for the full list of fighters – who are listed in order of their current ranking in the divisions with those unranked or inactive placed at the bottom of each – and leave any thoughts on the inclusions and omissions in the comments!
Heavyweight
Cain Velasquez (C)
Fabricio Werdum
Junior Dos Santos
Travis Browne
Antonio Silva
Alistair Overeem
Antonio Nogueira
Mark Hunt
Roy Nelson
Frank Mir
Daniel Cormier
Pat Barry
Light Heavyweight
Jon Jones (C)
Alexander Gustafsson
Rashad Evans
Glover Teixeira
Daniel Cormier
Dan Henderson
Phil Davis
Mauricio Rua
Chael Sonnen
Ryan Bader
Vitor Belfort
Lyoto Machida
Michael Bisping
Wanderlei Silva
Rich Franklin
Forrest Griffin
Antonio Nogueira
Gegard Mousasi
Anderson Silva
Chuck Liddell
Middleweight
Chris Weidman (C)
Lyoto Machida
Vitor Belfort
Jacare Souza
Luke Rockhold
Mark Munoz
Michael Bisping
Francis Carmont
Costas Phillipou
Cung Le
Robbie Lawler
Chael Sonnen
Anderson Silva
Wanderlei Silva
Demien Maia
Dan Henderson
Rich Franklin
Royce Gracie
Welterweight
Johny Hendricks (C)
Robbie Lawler
Rory Macdonald
Carlos Condit
Jake Ellenberger
Demien Maia
Tarec Saffadine
B.J. Penn
Nate Diaz
Nick Diaz
Martin Kampmann
Pascal Kraus
Josh Koscheck
Georges St. Pierre
Bruce Lee
Lightweight
Anthony Pettis (C)
Gilbert Melendez
Benson Henderson
Josh Thomson
Khabib Nurmegomedov
Donald Cerrone
Jim Miller
Gray Maynard
Joe Lauzon
Chan Sung Jung
Jose Aldo
Ross Pearson
Nate Diaz
B.J. Penn
Conor McGregor
T.J. Grant
Bruce Lee
Featherweight
Jose Aldo (C)
Chad Mendes
Frankie Edgar
Ricardo Lamas
Chan Sung Jung
Dustin Porier
Clay Guida
Dennis Siver
Conor McGregor
B.J. Penn
Urijah Faber
Cub Swanson
Bruce Lee
Bantamweight
Renan Barao (C)
Urijah Faber
Michael McDonald
Eddie Wineland
Mike Easton
Dominick Cruz
Eric Perez
Demetrious Johnson
Brian Bowles
Brad Pickett
Bruce Lee
Flyweight
Demetrious Johnson (C)
John Dodson
Joseph Benavidez
Ian McCall
Louise Gaudinot
Scott Jorgenson
Tim Elliot
Darren Uyenoyama
Women's
Ronda Rousey (C)
Cat Zingano
Alexis Davis
Miesha Tate
Sarah McMann
Sarah Kaufman
Liz Carmouche