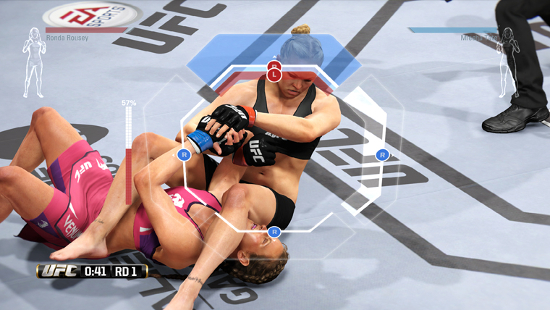 Last week the first gameplay video for EA Sports UFC arrived however it didn't include any submission attempts. Considering media previews for the game seem concerned most with how submissions are being handled it was important get a look at them in action. A new gameplay video featuring Ronda Rousey vs Miesha Tate offers that opportunity. 
The HUD consists of four gates that surround the fighters on screen. A blue Right Stick icon will appear in each of these gates informing the defending fighter that they can move their right stick in any direction. If the defending fighter can push one of these Right Stick icons all the way to the outside of the submission HUD, they'll escape the submission.

Resistance comes into play when the attacking fighter looks to block the escape. As the defending fighter attempts to move their Right Stick icon to the to the outside of the HUD, the icon will turn red letting the attacker know they need to resist the escape by moving their own Right Stick in the same direction. When the attacking fighter does so, the defender cannot escape in that direction and has to try another.

Progression comes into play when after an escape is blocked for a period of time, the attacking fighter will see a Left Stick icon appear over one of the gates. Flicking the Left Stick in that direction will allow the submission to progress to the next stage and force the defending fighter to restart their escape from scratch. Flicking the Left Stick too late or in the wrong direction will make it easier for the defending fighter to escape.

A fighter's submission rating and stamina during a fight dictate how difficult it will be to escape or lock in the submission. Progress to through all the stages to complete the submission and force the tapout.
Please enable Javascript to watch this video