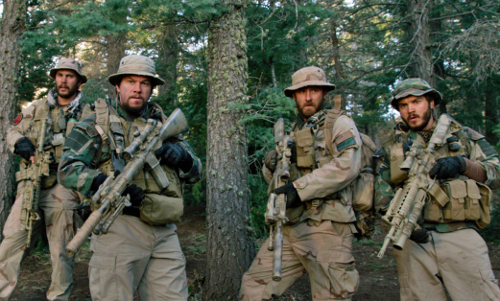 Lone Survivor
Based on The New York Times bestselling true story of heroism, courage and survival, Lone Survivor tells the incredible tale of four Navy SEALs on a covert mission to neutralize a high-level al-Qaeda operative. The four men must make an impossible moral decision in the mountains of Afghanistan that leads them into an enemy ambush. As they confront unthinkable odds, the SEALs must find reserves of strength and resilience to fight to the finish.

Robocop
In RoboCop, the year is 2028 and multinational conglomerate OmniCorp is at the center of robot technology. Overseas, their drones have been used by the military for years – and it's meant billions for OmniCorp's bottom line. Now OmniCorp wants to bring their controversial technology to the home front, and they see a golden opportunity to do it. When Alex Murphy (Joel Kinnaman) – a loving husband, father and good cop doing his best to stem the tide of crime and corruption in Detroit – is critically injured in the line of duty, OmniCorp sees their chance to build a part-man, part-robot police officer. OmniCorp envisions a RoboCop in every city and even more billions for their shareholders, but they never counted on one thing: there is still a man inside the machine pursuing justice.

In The Blood
MMA star Gina Carano (Haywire, Fast and Furious 6) stars as Ava, a trained fighter with a dark past in this intense action/thriller from director John Stockwell (Blue Crush, Crazy/Beautiful). When her new husband (Cam Gigandet, Twilight) vanishes during their Caribbean honeymoon, Ava uncovers a violent underworld of conspiracy in the middle of an island paradise. Armed with a deadly set of skills, Ava sets out to discover the truth and to take down the men she thinks are responsible for her husband's abduction, one by one. Ismael Cruz Cordova (The Good Wife), Luis Guzmán (Traffic), Treat Williams (Chicago Fire), Amaury Nolasco (Prison Break), Stephen Lang (Avatar) and Danny Trejo (Machete) co-star.

Attack on Titan, Part 1
When the man-eating giants called Titans first appeared, humans retreated behind massive walls. After a hundred years of safety, a colossal-sized Titan smashes through the defenses, unleashing a flood of giants and carnage in the streets. Eren Jaeger watches helplessly as one of the creatures devours his mother. He vows to kill every Titan walking the earth. Eren and his surviving friends enlist to fight against the insatiable monsters. The future looks bleak, but there s more to Eren than meets the eye: he may be humanity s last hope against extinction. From the director of Death Note and High School of the Dead comes the series Anime News Network calls an intense, visceral, and graphic thrill ride. The Titans have come to feast. Anything can happen. No one is safe.

Son of God
Now, the larger-than-life story of The New Testament gets a larger-than life treatment in the stand-alone feature SON OF GOD. Told with the scope and scale of an action epic, the film features powerful performances, exotic locales, dazzling visual effects and a rich orchestral score from Oscar-winner Hans Zimmer. Portuguese actor Diogo Morgado portrays Jesus as the film spans from his humble birth through his teachings, crucifixion and ultimate resurrection. It marks the first motion picture about Jesus' life since Passion of the Christ, released ten years ago.

The Killing: Season 3
Season three of The Killing begins one year after the close of the Rosie Larsen case (the focus of The Killing's first two seasons), with Sarah Linden (Mireille Enos) no longer working as a Seattle homicide detective. But when her ex-partner Stephen Holder's (Joel Kinnaman) search for a runaway girl leads him to discover a gruesome string of murders that may connect to a previous murder investigated by Linden, she is drawn back into the life she thought she'd left behind. The new season also stars Peter Sarsgaard, Elias Koteas and Amy Seimetz.

Workaholics: Season Four
It's time to get back to work for coworkers and roommates, "Adam," "Blake" and "Ders," but that also means partying harder than ever before. Comedy Central's hit, scripted series Workaholics Season 4 is back with all new super fresh episodes. They do their jobs and sometimes they even do them well, but they show up late, leave drunk and always live for the day.even if they don't know what day it is. Whether they're hanging out at their house in Rancho Cucamonga or getting ready to rage at a Renaissance Faire, the guys find trouble wherever they go.

Breaking Bad: The Complete Series
Box Set: The incredible saga of high-school-chemistry-teacher-turned-meth-kingpin Walter White is here in its entirety: all 62 uncut, uncensored episodes! Emmy® winner Bryan Cranston portrays Walter White, a family man who turns to crime after a lung cancer diagnosis unravels his simple life. Recruiting former student and small-time dealer Jesse Pinkman (Emmy® winner Aaron Paul) to be his partner in crime, Walt rises to the top of the meth trade, leaving a trail of bodies in his wake. But he can't keep his dogged DEA agent brother-in-law Hank Schrader (Dean Norris) off his trail forever. Will Walt get away with it all, or die trying? With riveting performances by Anna Gunn, Giancarlo Esposito, Jonathan Banks, Bob Odenkirk, Betsy Brandt, RJ Mitte and more, re-live every moment of this groundbreaking original series. Executive Produced by Vince Gilligan, Mark Johnson and Michelle MacLaren, the complete box set is loaded with special features.