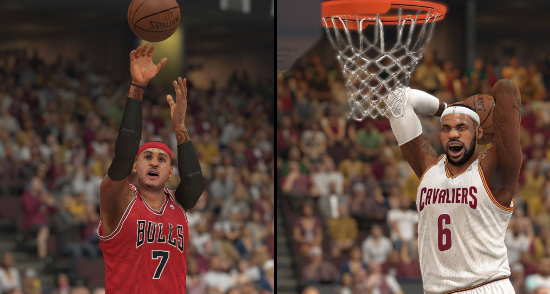 While Carmelo Anthony was fully expected to opt-out of his contract with the New York Knicks, there was some uncertainty about whether LeBron James would do so. Reports today are that he in fact will. The two could still choose to go back to their respective teams but a number of suitors will be hoping to give them reason to leave. Add to the mix the possibility of Kevin Love being traded and there could be some massive shifts in power this offseason in the NBA and the respective video games.
While NY and Miami can offer the most money to them, contracts for the big name players in the NBA end up being just a fraction of what those players can earn. With endorsements and other avenues for earnings (LeBron made over three times as much last year off the court than on it) the potential that players will take less to go to a winning team or come together with friends is made even more plausible.
Possible destinations the two will consider include the Chicago Bulls, Cleveland Cavaliers, Houston Rockets, and Dallas Mavericks. A few other teams could also clear space to get in the mix. Where do you see LeBron and Carmelo ending up once free agency opens on July 1?