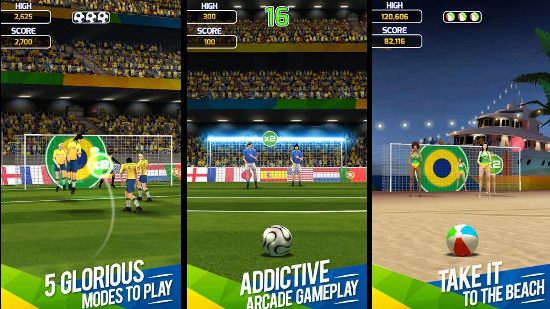 The "Flick" games from Full Fat have been some of the most popular sports-themed apps on mobile devices. They're free, simple, responsive, and fun.
The latest is Flick Soccer Brazil which features five different modes plus an add-on $1 "Bikini Mode". Download it for iOS here and Android here.
QUICKSHOT: It's you VS the keeper in a fast paced showdown!
SPECIALIST: Set piece free kicks to sort the men from the boys.
CHALLENGE: Five gold trophies to be won in a test of precision.
CROSSBAR: Crazy stunts for extreme sports fans!
SMASH IT: Shatter huge panes of glass across the goal.
Other well regarded games from Full Fat include NFL Quarterback, NFL Kicker, Flick Golf, and Flick Soccer. The company also developed King of the Course, the recently released golf game which was published by EA Mobile.