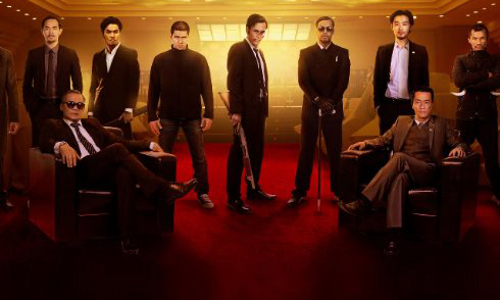 The Raid 2
Following immediately after the events of THE RAID, Rama (Iko Uwais) is forced to reinvent himself as an undercover cop in order to provide protection for his wife and child. Working for the anti-corruption taskforce led by the one person he can trust, Bunawar, he is given a mission to engage himself as an enforcer for a local mob boss, Bangun. Finding a way in through Bangun's son Uco, Rama must hunt for information linking Bangun with police force corruption. All the while, he harbors a dangerous and personal vendetta for revenge and justice that threatens to consume him – and bring both this mission and the organized crime syndicates crashing down.

Bad Words
Jason Bateman makes his feature directorial debut with the subversive comedy, Bad Words. Bateman stars as Guy Trilby, a 40-year-old who finds a loophole in the rules of The Golden Quill national spelling bee and decides to cause trouble by hijacking the competition. Contest officials, outraged parents, and overly ambitious 8th graders are no match for Guy, as he ruthlessly crushes their dreams of victory and fame. As a reporter (Kathryn Hahn) attempts to discover his true motivation, Guy finds himself forging an unlikely alliance with a competitor: awkward 10-year-old Chaitanya (Rohan Chand), who is completely unfazed by Guy's take-no-prisoners approach to life.

Jackass Presents: Bad Grandpa .5
An unrated version of Bad Grandpa which includes over 40 minutes of additional outtakes and interviews.

The Time Machine (1960)
Warner Bros. Home Entertainment is bringing filmmaker George Pal and screenwriter David Duncan's The Time Machine to Blu-ray this summer. Based on the 19th century H.G. Wells novel of the same name, the science fiction classic stars Rod Taylor, Alan Young, Yvette Mimieux, Sebastian Cabot, Yvette Curtis and Tom Helmore. From H.G. Wells' landmark novel comes this beloved adventure about an inventor (Taylor) who builds a time-travel device that whisks him through a war-ravaged 20th century and into a far-off era where humans are enslaved by evil subterranean mutants.