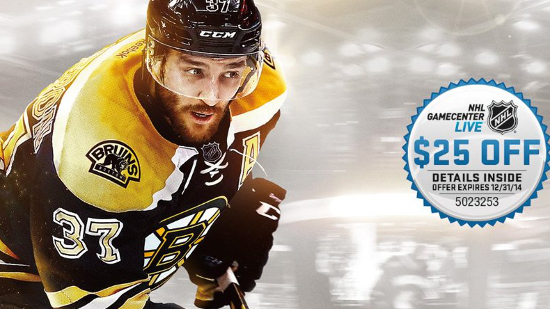 Though it has yet to be announced by EA Sports, the cover of NHL 15 has revealed that the game will include a code for $25 off a subscription to NHL GameCenter Live.
Similar to services offered by other sports most prominently MLB.TV, NHL GameCenter Live is subscription-based and offers live streamed out-of-market games and other features made available on a variety of devices. That includes apps for the PS4, PS3, 360, Vita, iOS, Android, and Roku. Xbox One is expected to receive the app as well this fall. GameCenter is fairly well regarded with the exception of home market blackouts causing frustration.
GameCenter isn't available to purchase yet for the 2014-15 season so the official price has not been announced. Last year the full season subscription cost $150. Because of that the $25 may only end up impacting those who planned to pay for the service already rather than be enough to sway consumers who wouldn't have signed up otherwise to do so.
This isn't like the Madden NFL 25 special edition which offered access to Sunday Ticket for $40 more, and to many who couldn't subscribe to it no matter how much they might have wanted to since they didn't have DirecTV, for a savings of about $200. Still it's certainly a nice bonus being offered for no additional cost to those interested or expecting to subscribe to the service and picking up NHL 15 as well.
The credit towards GameCenter is of course in addition to the main pre-order incentive of $15 in Ultimate Team content retailer wide ($24 exclusively at GameStop) and the $40 in UT content that goes with the Ultimate Edition and its $70 price.