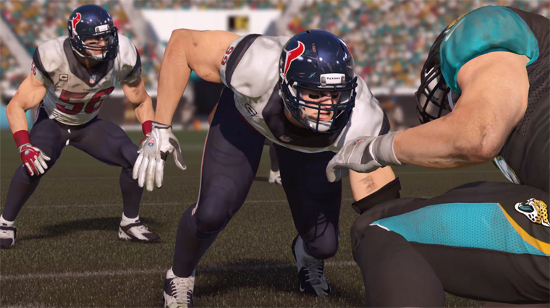 EA Sports today has gone further into the improvements to offensive and defensive line play in Madden NFL 15 with a new trailer. Features shown off include the optional defensive gameplay camera, enhancements made to how an offensive line plays as a unit, getting a jump off the snap as a d-lineman, and the various pass rush moves at a player's disposal.
Please enable Javascript to watch this video
OFF THE LINE
Some of the NFL's best pass rushers like Robert Quinn, Robert Mathis, and Von Miller use their quick first step to get off the ball and gain an advantage by timing the snap. That's now possible in Madden NFL 15, as players can make successful (or unsuccessful) speed rush moves by pressing RT at the correct time during the snap. However, mistiming the move will result in a slow first step and a win for the blocker, or even an offsides penalty.
POWER PASS RUSH
In Madden NFL 15, Players can now trigger power pass rush moves by pressing the X/Square buttons while engaged with a blocker. These moves used to be triggered by flicking the R-Stick, which sometimes felt unresponsiveness. With the new controls, players will have more control and ability to get off blocks. Use these moves with powerful linemen like J.J. Watt, Chris Long and Julius Peppers.
FINESSE PASS RUSH
Power pass rushers aren't the only guys getting love, as finesse pass rush moves have also been improved. Players can now press the A/X buttons while engaged to trigger finesse pass rush moves from players such as Cameron Wake and Brian Orakpo.
DISENGAGE AND CONTAIN
Contain the scrambling abilities of quarterbacks like Robert Griffin III and Colin Kaepernick by keeping them in the pocket and getting off blocks when they try to leave the pocket. New QB Contain pass rush logic and animations have been added so that defenders will pressure the quarterback while keeping the outside of the pocket contained. Pass rushers can now easily disengage by pressing A/X while moving the L-Stick away from the blocker. Playing defense offers much more control and responsiveness when attempting to get off blocks.