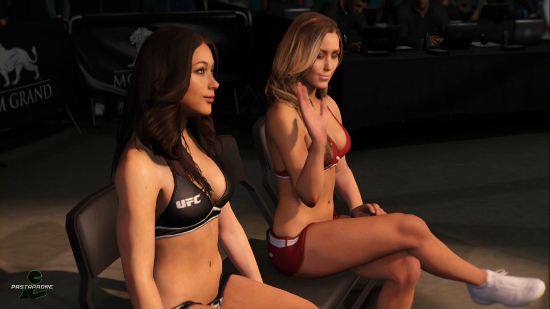 EA Sports UFC has struggled in terms of review scores and word of mouth and now that the sales numbers have released the impact of the poor start to the new franchise for the company can be further examined. First month sales for UFC combined for only 278K copies which explains the price drop that went wide last week.
THQ's UFC series took a nosedive following the first release in 2009 – something partially attributed to the lack of roster turnover, competition from high profile games, and now maybe it can be said UFC having hit a peak in popularity which has since dipped considerably due to various factors. Despite EA's marketing might they were unable to show much potential for turning things around. UFC 2009 sold over 1 million its first month, UFC 2010 plummeted to 414K copies, and UFC 3 (released in 2012) managed just 340K. Over two years later and the sales are even lower despite the stronger marketing push and a desperation move which the company thought would mean more than it did. 
Bruce Lee is the most used fighter in the game and that can probably be pointed at as another bad sign for the future of the franchise. EA hoped the inclusion would draw in casuals that wouldn't have had an interest in the game otherwise – and maybe it did do that for some. But then that would mean the base of true MMA fans has degraded even more than the basic sales numbers would suggest. Those consumers who bought for Bruce Lee aren't the ones that will stick around on what is said to be a bi-yearly basis.
The install base of the Xbox One and PlayStation 4 is not the reason UFC failed to sell well. There has been ample evidence that consumers on those consoles are more motivated to purchase, more engaged in each individual release, given the general lack of new software that has been available. EA is regretting the decision not to release World Cup on the new consoles because of that. Outside of a throwaway Transformers game there was absolutely nothing new competition wise in June. Either UFC now simply shouldn't be perceived as an upper-tier sports franchise that can draw even half a million copies, or EA left sales on the table by making a number of poor design decisions. The company certainly didn't buy the license thinking they'd fail to reach even 300K in the first month for what will be a heavily frontloaded title.
EA targeted a casual crowd with UFC in an effort to open up a larger potential base of consumers. In doing so they lost the actual fans of the sport who would have supported the franchise. They needed to capture them first so they could draw the casuals later but they went about it all backwards. EA isn't going to abandon UFC yet but it will have them seriously reconsidering their approach and maybe even contemplating a return to boxing with which they could alternate with UFC every couple years.