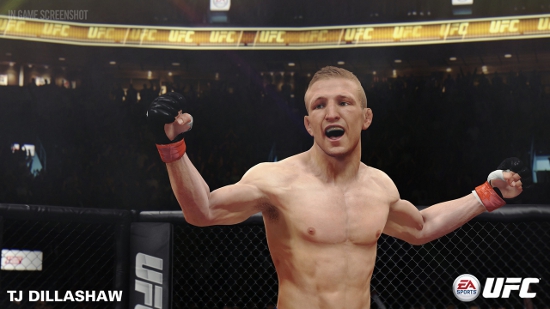 A significant update was released for EA Sports UFC today that on the surface attempts to make the gameplay somewhat more realistic while also adding three fighters to the roster for free.
The patch notes mention most notably a number of adjustments to stamina and damage. That isn't going to solve concerns over value due to the lack of content offline (recent price drop can help in that regard) or that the CPU fights the same no matter who is being used and does so super-aggressively, but it's probably the most they could do in a patch of this nature to add a sense of realism. It wasn't going to transform into something completely different that would satisfy those let down by the product. Bantamweight Champ T.J. Dillashaw, Tyron Woodley, and Takeya Mizugaki make it to the roster in this update as well.
It's too late to alter the perception of the first release in the series, which received poor reviews and hasn't sold well, but it remains important for EA to improve it as it demonstrates a commitment and indication of where they are headed with UFC in the future. Continue on for the full list of patch details for EA Sports UFC.