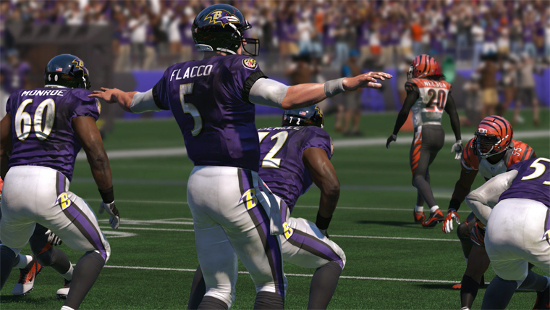 On Monday EA Sports turned to promoting Ultimate Team mode for Madden NFL 15. After months of consumers waiting on Franchise news, it was the most disconcerting development yet. Typically Ultimate Team is held for last, when the greatest number of people are seeking out information on the upcoming game, as the company attempts to draw in that more casual audience to their revenue-generating mode.
Franchise has been talked about in May and June in the past, when those paying attention are of a somewhat more hardcore crowd. Thankfully a blurb on retailer sites added some vague info on a couple new features to soften the frustration.
Clearly Ultimate Team is where EA would hope to push more consumers. But is that happening at a cost to Franchise mode? Whether it is or isn't, that is going to be the perception if nothing noteworthy was implemented in the mode. I sought reaction to what it would mean if Franchise mode wasn't improved significantly and the response was swift and emphatic.
The vast majority, overwhelming really, of well over 100 replies suggested it would have an impact on their purchase decision. Just some examples of that sentiment:
A handful of respondents would grudgingly buy the game despite their disappointment. Represented by these examples:
A small number of people have complete disinterest in the mode so any advancements made there would be irrelevant to them. A few examples of that:
Word all along has been to not expect anything monumental for Franchise. Now, that wouldn't prevent there from being meaningful improvements, but they may not be that confident in marketing them. What was first known was that there would be some new uniforms for relocated teams and maybe some new cities as well. Nothing else was presented until the retailer summary which added the new details on developing players and fluctuating "confidence" levels affecting performance.
Is that enough? Some will hope they're holding back to make a splash but that has not been the M.O. for EA and especially when it comes to Franchise. The most recent examples are the introduction of Connected Careers in Madden NFL 13 (announced in the lead-up to E3 in early June) and Owner Mode in Madden NFL 25 (revealed in May). Those represented huge revolutions and additions and they were the focus much earlier in the marketing schedule.
It should be noted that Franchise mode will be improved just by incorporating the improved gameplay and presentation elements. But there is an apparent importance to treating the mode with a certain level of respect and dedication when compared to other areas such as Ultimate Team. Clearly a lot of people are looking for something here that EA has yet to provide.
Whether Franchise is the most important mode Madden's success is questionable, but what isn't is how it affects the more dedicated year-to-year fans that after hemorrhaging those types over the last decade EA can't afford to keep losing…no matter how much money they may bring in with Ultimate Team.