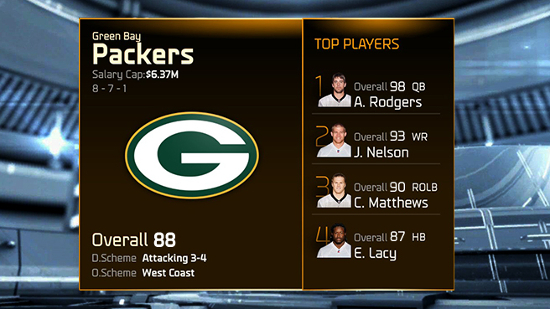 EA Sports has released the complete base team rosters with player ratings for Madden NFL 15 from four of the divisions. A roster update will go out at release and another after the final 53 man rosters are set on August 31 and any shuffling is made in the lead-up to week one. However most player ratings are unlikely to change until the latter and even then there is some caution considered in making adjustments based on pre-season performance.
Check out the full rosters for AFC and NFC North and South divisions here. The remaining divisions will be rolled out over the next two days.
The Bengals lead the way in the AFC North with an 86 overall team rating followed by the Ravens (84), Steelers (78) and Browns (75).  In the AFC South it's the Colts (83), Texans (76), Titans (74), and Jaguars (73).
The NFC North is topped by the Packers (88) and trailed by the Bears (84), Lions (80), and Vikings (76). The NFC South is Saints (86), Panthers (84), Falcons (79), and Buccaneers (77).