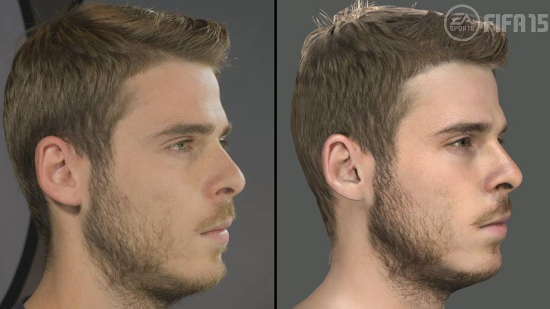 In an announcement yesterday EA Sports confirmed an extension of the agreement with the Premier League as "official sports technology partners" and a few ways in which the company has taken advantage of the access for FIFA 15.
All 20 Premier League stadiums will appear in the game, additional effort has been put into crafting the player likenesses, special broadcast presentation will attempt to replicate the television viewing experience, and audio has been captured from actual matches. In addition the new "Goal Decision System" makes its debut. 
Broadcast Graphics
Broadcast quality overlay graphics that are synonymous with the international TV broadcasts will communicate to fans all the important game information: team sheets, formations, score and clock, next fixture, player stats, and more.
Audio and Commentary
The ambience and cheers of over 20 Barclays Premier League matches were recorded and implemented into FIFA 15 to bring realistic audio to goals, misses, whistles, and crowd-specific chants. The Barclays Premier League Anthem will also play at the start of each League match.
All 20 Stadiums
Every stadium in the Barclays Premier League is in the game and looks, feels, and sounds just as it does in real life, including authentic representation of animated LEDs and advertising boards.
Authentic Player Headscans
Using the latest 3D scanning technology, the FIFA 15 development team visited every Barclays Premier League club in the 2013/14 season to scan players and capture their likeness. Over 200 new player heads will be scanned in, giving them the most realistic player model possible.
Goal Decision System
The Goal Decision System will leave no question as to whether or not the ball crossed the line. Replay animations will emulate TV broadcasts playing after close calls and goal line clearances.
Please enable Javascript to watch this video