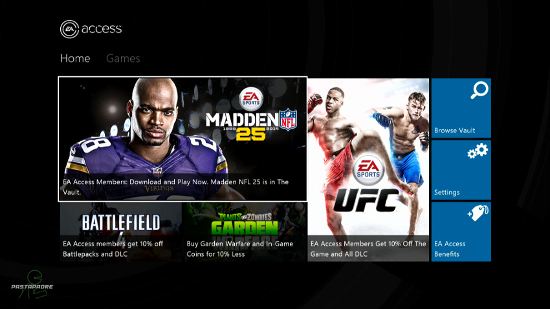 With timing that will raise even more eyebrows, Electronic Arts has announced that the EA Access program is now rolling out wide to everyone on the Xbox One. It had been in beta for dashboard preview participants since the end of July.
EA Access is a subscription service for $30 a year or $5 a month that offers a library of older games to play, 10% off digital purchases, and the ability to play games in the days leading up to their release for a limited stretch of time. It's represents a very good value for anyone that has interest in those older titles with the other features making it even better.
The news came less than an hour after confirming there would be no demo for Madden NFL 15 and the only way to play it early will be through EA Access. For those interested in subscribing for that reason alone it would be best to hold out until the company provides specifics on any restrictions tied to Madden. Technically they could limit it to as few as two hours with the game. The company has refused to comment on how Madden's availability will be handled.