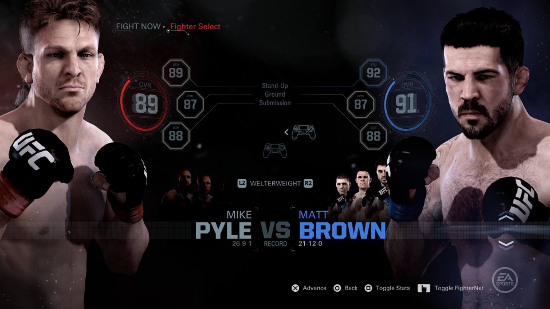 It may be practically dead at this point but it remains important for EA Sports to support the UFC title that launched in June. Having opened to weak sales, and dropping off the map since, the goal isn't necessarily to capture new consumers (the damage has already been done, interest waned and competition too fierce now) but display a commitment to what is hoped to be a long-running franchise.
The changes that have been made since release in now two patches demonstrates the company has identified why the game wasn't successful. Unfortunately the reasoning was obvious all along, and they chose instead to design and promote it in a manner that led to its downfall, but if the lessons have been learned that could lead to a significantly improved product when the next iteration arrives likely in 2016. Continue on for the details of the latest patch and who has been added to the roster in the update. 
– Three new fighters have been added: Matt Brown, Mike Pyle, and Stipe Miocic.
Kick Catching
Users will now have the ability to catch opponents' kicks during parries if the attacking fighter has low stamina or high leg-damage when throwing the kick. If the parry button is held, a takedown will be initiated.
Manual Taunts
Users will now be able to add insult to injury with a well-placed taunt. Pressing Left or Right on the directional pad will cause a fighter to taunt their opponent mid-bout.
Single Leg into Half Guard
Successful basic Single Leg Takedowns will now end up in Half Guard.
Stamina
Stamina loss on Strikes Landed has been adjusted.
Back Mount Escape
The submissive fighter is now able to escape when their opponent has them in the Back Mount position.
Transitions
New defensive stand-up transitions from Full Guard have now been added. Guard-to-Full-Mount sweep is now an Advanced Transition.
TKO Stoppages
The referee will now stop the bout if the submissive fighter blocks too many strikes without trying to improve their position during ground and pound.
Other
– Updates to fighter records
– Added new defensive standup transitions from Full Guard. Moved Sweep to Advanced Transition
– Added Back Mount escape for submissive fighter
– Added manual taunts. Press Left or Right Directional buttons to taunt
– Successful Basic Single Leg Takedowns will now end in Half Guard
– Added Coins to Online Championships. Watch partner videos from the Home Panel and earn Coins to trade in for Season Points.
– Fixed issue where Crucifix was unavailable in career. Will now be available on new Career save files after purchasing transition.
– Allow users to view Fighter Stats and Abilities in Online Championships Fighter Select Screen
– Disabled Online Pause in all Online modes. User can still access the Pause menu, however it does not pause gameplay.
– Tuned online White Belt promotion and division belt thresholds.
– Fixed issue where dominant fighter could stall transitions
– Fixed an exploit where fighters could sneak in a free hammer fist during Posture up and down animations
– Fixed exploit in Side Control where users could land a free shot after transitioning to Side Control.
– Fixed an issue with Cage Clinch Break denial inputs.
– Increased base punch speed of all weight classes
– AI tuned to be less aggressive. AI is more aware of stamina and fight pacing.
– Duration and probability of Health Events has been tuned
– Stamina loss on strikes landed has been adjusted
– Tuned denial windows for various ground transitions, getups and submission attempts
– Animation speeds adjusted for strikes that were being abused Online
– Added delay on submission attempts after a failed submission.
– Submissions cannot be attempted when attacker has minimal Stamina
– Fighters can change stances while blocking
– Adjusted Antônio Rogério Nogueira's and Robbie Lawler's Hand Power and Speed attributes