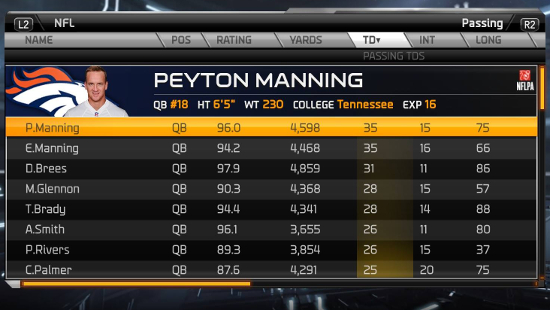 EA Sports has made another crucial server-side update to Connected Franchise mode in Madden NFL 15. Following one a few days ago that addressed some minor issues the latest alters the simulation stats in the mode which had been way out of whack.
The problem was related to touchdown numbers being very low and interceptions extremely high. Based on some quick testing this does look to be much improved with TD numbers close but maybe a little low at the very top and INT numbers still a tad heavy across the board.
35 TDs led the league in the sim (Manning had 51 and Brees 39 last season). Only one starting QB threw in single-digits of interceptions in the sim (Ben Roethlisberger with 9) while names like Russell Wilson, Andrew Luck, Nick Foles, Colin Kaepernick and Alex Smith all stayed out of double-digits last season. There has clearly been a reduction in the total number of interceptions however as the league leaders finished with 8 (same as Richard Sherman last season) instead of a bunch of players having as many as 15.
The biggest concern right now for online franchises are problems with head-to-head games. While EA claims that results are now being reported for those games it seems users are frequently struggling to even get past the first quarter due to "desyncs". It might also be a good thing to have adjustments made to how funds are handled for "Owners" who have found themselves unable to sign free agents due to a lack of funds despite having ample cap space. For rebuilding or struggling teams it is a downward spiral as revenue drops that may have been made too difficult to recover from and it's ruining the enjoyment of taking on owner responsibilities.
Server-side updates of course only apply to franchises that have been designated as "online". In the case of these recent fixes new franchises have to be started as they won't apply to those already in progress. The only way to reach "offline" ones is with a patch and that first one could still be weeks away.