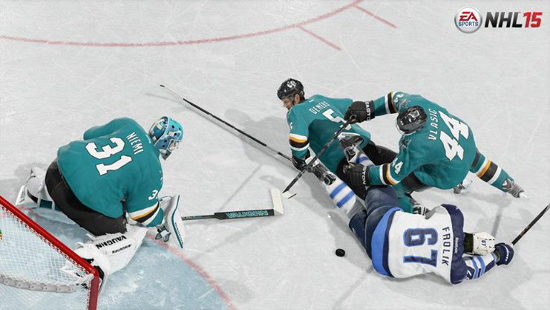 EA Sports has now responded to the wave of criticism regarding missing modes and features in NHL 15. When the news was confirmed about EASHL and GM Connected being gone in the Xbox One and PS4 version fans of those modes were turned off from the product while others may have felt unaffected. Unfortunately that was only the start of what had been stripped out and there would be no getting around the lack of content and options by anyone.
The company plans to patch in a few of the missing features and have laid out expectations for the next two months. 
September
♦Playoff Mode: Create a custom offline tournament bracket with up to 16 teams from any of the 12 leagues in the game. Play or simulate each game and track player and team stats throughout the tournament.

♦Be A Pro – Coach Feedback: Get the coach's feedback while you are on the bench. The coach will give you tips on how to stay on top of your game and grade you on your play.

♦3 Stars of the Game: At the end of the game, see the three stars and their high level stats. Will apply to every game mode.

♦Hockey Ultimate Team: Several content updates, including changed layout and navigation in HUT store, new animations for player items, improved edit lines screen to better identify players that are injured or require contract extensions

October
♦Online Team Play: Online multiplayer mode where every player on the ice can be human controlled.

♦GM Draft: For the first time in the NHL franchise, you will be put on the clock and feel the pressure like real NHL GM's. You will now only have 3 minutes to make a draft pick. If the pressure is too much, you can also call timeouts to extend the amount of time you have to make a draft pick or potentially negotiate a trade. You can make trades at any time during the draft. The CPU will also propose trades to each other and the user throughout the draft.
These proposed additions won't change the backlash EA has brought on themselves by releasing a stripped down product for $60. If they actually cared they would have delayed or cancelled this year's game. What they plan to patch in barely even begins to scratch the surface of what is gone, and asking consumers to purchase an admittedly incomplete product with the promise that some things will be added later is a misguided strategy at best that one no one should buy into after they attempted to mislead and disguise the state of the game until they couldn't any longer.