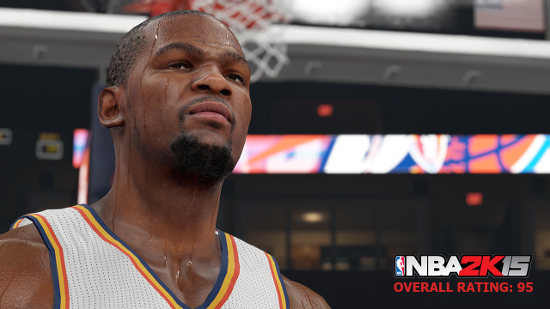 The overall ratings calculation has changed with NBA 2K15 and only four players will be rated 90+. The floor seems to have risen, and the ceiling lowered somewhat, compressing more players in the middle. As always individual attribute categories and signature skills – and how those translate to performance – is more important than the overall.
2K Sports has started to release the player ratings and in an unorthodox manner having done so by starting with the lowest in the league. Typically companies have avoided spotlighting the bottom of the rosters so as not to embarrass those individuals. In addition a few ratings have come out through Twitter or images captured from the game's convention appearances.
More ratings will be added to this post as they roll in. LeBron James tops the current players at 98 overall, Kevin Durant follows at 95, and Tim Duncan pulls a 90. Players with more well-rounded skill sets seem to be getting greater credit in the overall ratings this year than in the past as opposed to those that excel in some areas but are weaker in others.
98– LeBron James
95– Kevin Durant
90– Tim Duncan
89– Kevin Love
88– Tony Parker, Dirk Nowitzki, Russell Westbrook
85– Kawhi Leonard
84– Serge Ibaka
83– Andre Drummond, Manu Ginobli
82– Monta Ellis
79– Chandler Parsons, Tyson Chandler, Reggie Jackson
78– Jabari Parker, Danny Green, Boris Diaw, Dion Waiters
77– Andrew Wiggins, Joel Embiid, Tiago Splitter, Patty Mills, Shawn Marion
76– Julius Randle, Jameer Nelson, Tristan Thompson
75– Doug McDermott, Marco Belinelli, Anderson Varejao, Brandon Wright, Devin Harris
74– Shabazz Napier, Elfrid Peyton, Aaron Gordon, Nik Stauskas, Ben McLemore, Kendall Marshall, Mike Miller, Raymond Felton, Kendrick Perkins, Nick Collison, Steven Adams
73– Matt Bonner, Corey Joseph, Jeremy Lamb, Anthony Morrow
72– T.J. Warren, Zach Lavine, Isaiah Canaan, Shane Larkin
71– P.J. Hairston, Tyler Ennis, Rudy Gobert
69– James Jones, Perry Jones
68– James Young, Mitch McGary
67– Jannero Pargo, Gal Mekel, Jeff Ayres, Johnny O'Bryant, Cole Aldrich, Aaron Gray, Miroslav Raduljica, Josh Powell, Kyle Anderson, Jeff Ayres, Austin Daye
66– Solomon Hill, Luke Babbitt, Cameron Bairstow, Malcolm Thomas, Dewayne Dedmon, Joel Anthony, Victor Claver, Reggie Williams, Sergey Karasev
65– Donald Sloan, Brendan Haywood, Brandon Davies, Hasheem Thabeet, Josh Huestis
64– Shavlik Randolph, Bruno Caboclo
♦2K has now updated with every player rated up to 74.